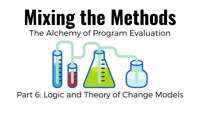 With contributions by Balint Peto
Welcome back to our blog series on program evaluation. If you haven't already, check out last week's post on surveys. In this installment, we will examine another data collection method: logic models.
A logic model depicts how a program or policy solves an identified problem under specified conditions. (You can learn more about how to construct a logic model in one of our past posts here.) In this post, we focus on why and when to consider using logic models, or a subset, theory of change models.