Summit's team of professionals have experience in infrastructure, financing, and financial assistance, delivering data-driven solutions to help customers at all stages of a program's life cycle.
Summit provides the data-driven intelligence our clients need to develop, assess, and manage their programs. From infrastructure financing to mortgage finance to recovery grant programs to mission oriented finance, our team offers quantitative and qualitative analyses and tools to federal agencies to deploy and effectively manage billions of dollars in federal assistance in alignment with their intended policy purpose.
Our expert team dives deep into our clients' programs, analyzing relevant statutory and regulatory requirements, developing and evaluating financial processes, and interviewing stakeholders and program recipients. We apply our institutional knowledge to create models that assess risk, evaluate credit, manage portfolios, and provide forecasting. We conduct trainings and briefings and build apps that allow our clients to implement these insights into their day-to-day operations.
For previous and current clients, we have worked on risk modeling and assessment, grant and loan-program design and development, mission-oriented finance, portfolio management, and credit evaluation. From stress testing to sensitivity and scenario analysis, we ensure that our customers have the actionable intelligence and tools they need to manage their portfolios. Unparalleled customer service is key to our success, and we commit ourselves to working closely with our clients to address their needs and the needs of their stakeholders.
Summit recently hosted a live webinar featuring our in-house experts discussing issues Infrastructure Act programs are currently facing, lessons learned from the early stages of the program life cycle, and how to improve loan and grant program implementation in the future. Click the image below to watch.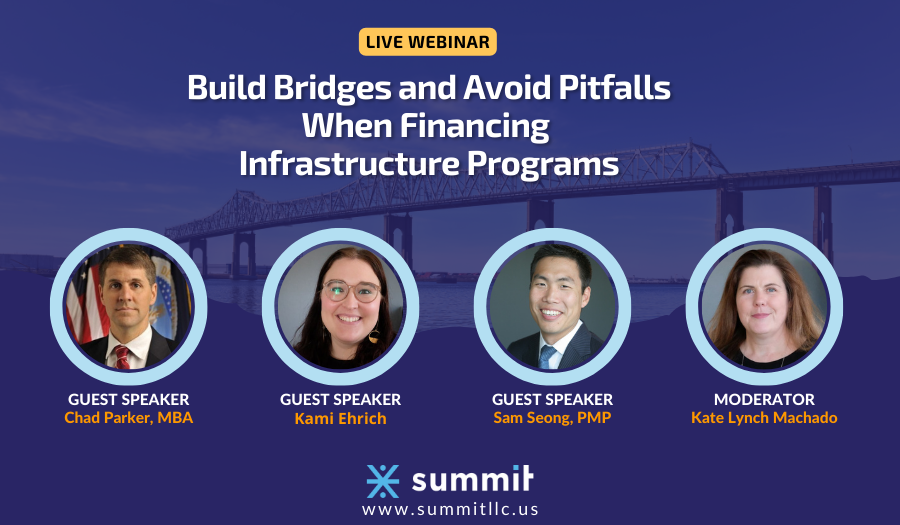 Clients

U.S. Department of Housing and Urban Development
U.S. Department of Agriculture
U.S. Department of the Treasury
U.S. International Development Finance Corporation
U.S. Environmental Protection Agency
U.S. Army Corps of Engineers
U.S. Department of Transportation
U.S. Department of Energy