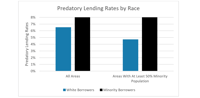 With contributions by Olivia Hebner
Today's post closes our three-part series on discrimination in mortgage lending and the analytical techniques that Summit uses to detect it. Part one discussed analytical techniques to detect redlining, the practice of denying loan applications to minority applicants based on the racial composition of neighborhoods. Part two examined loan pricing discrimination, the practice of charging higher interest rates to minority applicants due to their race.
In this installment, we talk about origination discrimination and predatory lending.