Posted by Oge Ezeokoli on 11/4/15 3:00 PM

Last week, we discussed the history of Home Mortgage Disclosure Act (HMDA) and fair lending in the United States. The week before, we reviewed what's new in the updated HMDA rule. This week, we'll explore redlining and racial disparity in mortgage lending.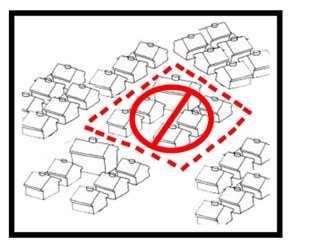 Redlining describes a situation where mortgage services are denied or limited for two specific reasons:[1][2]
The racial and/or ethnic composition of an area's residents
The age of an area's properties
In other words, redlining is when lenders used discriminatory and unfair lending practices that result in reduced lending accessibility for borrowers in the areas that show high populations of racial minorities, regardless of the credit of each individual borrower. The word redlining comes from the practice of outlining in red those geographical areas that were perceived to pose a higher mortgage risk. Redlining can affect in a particular street, block, census tract, or even a whole city.
History of Redlining in the United States
Redlining has a long history in the United States. Before the 1970s, the U.S. Federal Government allowed mortgage lenders to use the racial and ethnic composition of community when determining the neighborhood's quality or value. If an area had a large number of racial or ethnic minorities, it was likely to be redlined (i.e. designated as an undesirable or risky area for mortgage lending).[3] Residents in redlined neighborhoods found it difficult to obtain mortgages; and if they did, those mortgages were usually much more expensive than the ones offered to residents in non-redlined neighborhoods.
Until the mid-1960s, U.S. policymakers largely failed to recognize—or outright ignored—the fact that redlining intensified racial segregation and urban decay. A growing public awareness and concern about unfair mortgage lending encouraged the passage of the Home Mortgage Disclosure Act (HMDA) of 1975. HMDA's original intent was to collect the mortgage industry data necessary to identify redlining and other unfair lending practices.
How the Enactment of HMDA Affected Redlining
From 1975-1989, HMDA data were disclosed at the aggregate level (not the borrower level) and contained the number and dollar amount of mortgage loans made in each U.S. census tract. While limited, this data was still useful for finding trends. Researchers connected the aggregate HMDA data with census information to analyze the demographic and economic make-up of each census tract and, in turn, illustrate geographic trends in the mortgage industry.

However, some Federal agencies argued that these findings were not sufficient proof of redlining. Early HMDA data could highlight racial disparities in community lending patterns, but could not prove racial discrimination. During the 1980s, three important studies on racial disparities in mortgage lending (published by the Atlanta Journal Constitution, Detroit Free Press and Federal Reserve Bank of Boston) demonstrated that mortgage originations occurred at lower rates in predominantly black census tracts than in predominantly white census tracts—despite similar housing demands. These studies helped spur further investigation of racial disparities in mortgage lending. In 1989, HMDA began disclosing detailed transaction-level data about borrowers (including race, income, and gender) and mortgage loans (including pricing).
Redlining Today
Today, by leveraging transactional-level mortgage lending data collected by HMDA, researchers can use modern statistical techniques to detect redlining issues in lending. For example, early in May 2015, the Department of Housing and Urban Development (HUD) settled with the biggest bank headquartered in Wisconsin (Associated Bank) over a disparate treatment redlining case. (See HUD's press release about the settlement here.) In that case, the bank was accused of disproportionately denying loan applications of African-Americans and Hispanics and underserving minority neighborhoods. The bank agreed to pay a settlement of roughly $200 million—the largest settlement ever achieved by HUD in a redlining case.
As the housing and mortgage industry underwent changes in the late 1990s and early 2000s, another modern type of redlining discrimination emerged: reverse redlining. Mortgage lenders who engage in reverse redlining disproportionately provide unconventional, high-priced loans to minority borrowers. (For an example of reverse redlining, see this Reuters story: Wells Fargo to pay $175 million in race discrimination probe.) By disclosing transactional-level data, HMDA provides Federal enforcement agencies and local advocacy groups with the information they need to analyze housing trends and identify reverse redlining. In spite of the persistence and evolution of these disparities, HMDA continues to be an important tool for ensuring fair lending practices in the mortgage industry.
Join us next time to learn how the new HMDA rule will help researchers analyze different types of mortgage lending
In case you missed it, check out the previous posts in Summit's HMDA blog series first: HMDA's New Rule and What It Means and A Brief History of HMDA and Fair Lending.
To receive Summit Blog updates by email, subscribe here.
[1] Robert G. Schwemm and Jeffrey L Taren. Discretionary Pricing, Mortgage Discrimination, and the Fair Housing Act (Cambridge, MA: Harvard Civil Rights-Civil Liberties Law Review, 2010). http://harvardcrcl.org/wp-content/uploads/2009/06/375-4341.pdf.
[2] [3] Lucy H. Griffin. Fair Lending (Washington, DC: ABA Bank Compliance, 2012). http://www.aba.com/Products/bankcompliance/Documents/MayJune12CoverStory.pdf.
[4] Allen Fishbein and Ren Essene. The Home Mortgage Disclosure Act at Thirty-Five: Past History, Current Issues (Joint Center for Housing Studies, Harvard University: 2010). http://www.jchs.harvard.edu/sites/jchs.harvard.edu/files/mf10-7.pdf.