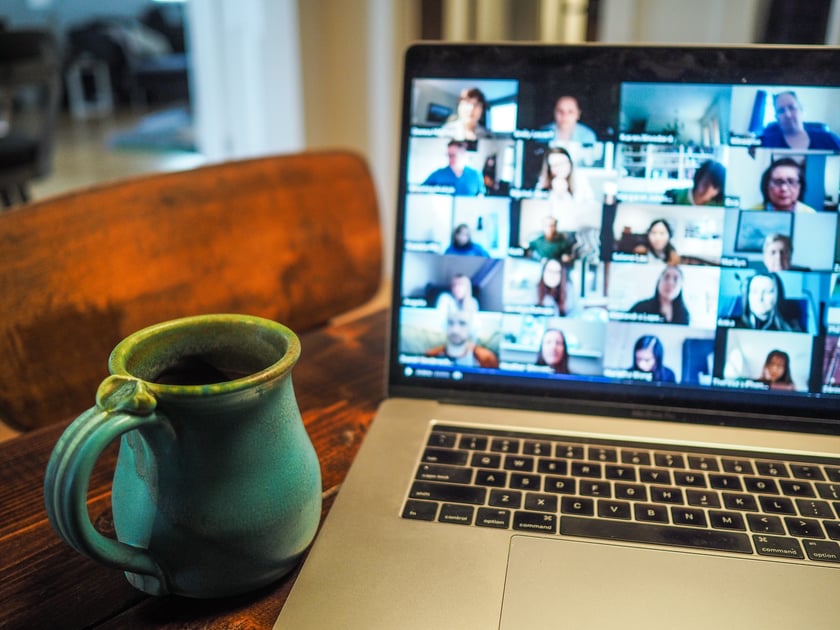 This article is part of a series Summit Consulting is releasing in collaboration with Huron, a Global Consultancy. In this series, we look at how an office climate assessment is a valuable tool to gain insight into employee perceptions of company policies and procedures. We talk about data collection techniques, engagement in a remote workplace, and a case study of a real organization. Check out the whole series:
While individual circumstances driving remote work vary, the COVID-19 pandemic has changed how and where we work. The federal government continues to examine how to adapt policies around remote work. In our previous post, we discussed collecting qualitative data using surveys and in-depth interviews. This post explores how implementing a few easy tactics can help you manage employee engagement, mitigate turnover, and maintain accountability.
In November 2021, the Office of Personnel Management released the "2021 Guide to Telework and Remote Work in the Federal Government," encouraging agencies to leverage remote work options to maintain their human capital. Virtual operations have the potential to fundamentally change cost structures, drive efficiency and productivity, deepen employee satisfaction, and expand the talent pool. If your staff now work from several disparate offices, what can you do to balance business needs and create an optimal work environment?
Drive Interpersonal Connection Through Virtual Infrastructure
According to the Harvard Business Review, research indicates that remote employees may suffer from a lack of in-person interaction with their colleagues. Incidental connections, like watercooler conversations, are missing for employees who are now limited to connecting via videoconference, chat, and phone. While challenging, it is possible to build and promote an engaging work environment for remote workers, but it must be intentional and repeatable. The following tactics are low-cost ways to build intentional connections with a remote workforce.
Tactic 1: Implement Effective Employee Rounding
Adapted from the clinical setting, rounding is the practice of holding consistent, intentional one-on-one conversations to build relationships and obtain actionable data. Regular communication with employees helps remote and off-site employees stay engaged, feel comfortable and heard, and sustain their quality of work.
Virtual rounding best practices include:
Using videoconferencing to encourage a relaxed environment
Allocating dedicated rounding time and ensuring the employee knows they're having a rounding conversation
Documenting follow-up actions from the conversation
Trying conversation starters like the following:

Start with a personal connection. ("How was your vacation?")
Establish a positive atmosphere. ("What is working well?")
Solicit coworker recognition. ("Who has been helpful to you as you worked on the project?")
Find out if the employee is facing barriers. ("What could be working better?")
Ensure the employee has the tools they need to be successful. ("How is your new laptop working?")
Ask for process improvement ideas. ("What are your suggestions for improving data collection?")
Leaders should capture and follow up on the feedback and suggestions given during these conversations. Closing the loop builds trust and gives employees a voice. Organizations can use rounding software to help leaders track and follow up on actions from these conversations. Using software instead of paper logs can make it easier to start—and keep having—these intentional conversations.
Tactic 2: Use Technology to Foster Interpersonal Connections
Federal agencies must adapt to the virtual work environment to attract and retain talent. Leaders and supervisors need to be intentional about remaining connected with their remote employees by embracing virtual technology to foster relationships and sustain accountability. Videoconferencing, chat or instant messaging, and screen sharing are powerful tools that can draw remote employees together. Staying connected with your remote staff can be simple—use the tips in the graphic below to get started.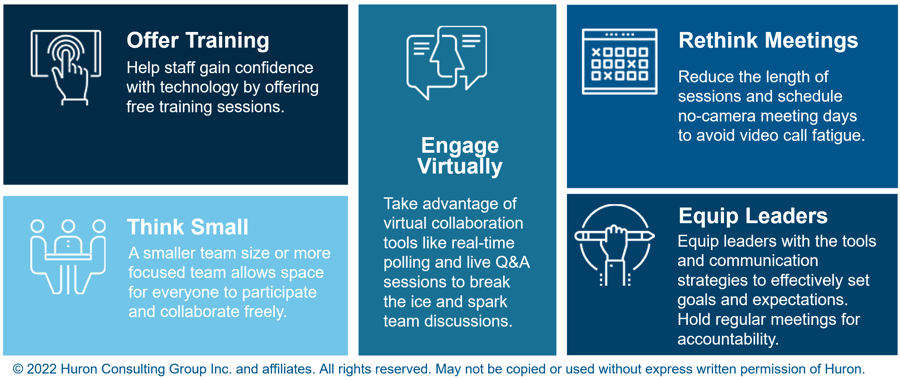 Stay tuned for our next post, where we discuss how organizations can make data-driven decisions using the data collected from rounding. In addition, we'll use a real case study to show how interpersonal connections benefit the entire organization.
Photo by Chris Montgomery on Unsplash; graphic by Huron, a Global Consultancy