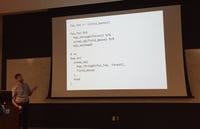 Last night, Summiteers joined Statistical Programming DC for Dr. Hadley Wickham's talk on creating fluent interfaces for R. As the creator of many popular and influential R packages, including ggplot2, plyr, reshape2, dplyr, and tidyr, Dr. Wickham is an authority on developing for R in a readable, reusable, and practical fashion.
(If you haven't heard of him, check out this profile: "Hadley Wickham, the Man Who Revolutionized R.")
The focus of Dr. Wickham's presentation was creating readable, reproducible data analysis programs using a technique called piping. Piping, written in R as '%>%', moves data from one function to the next, like the name implies.