Posted by Laura Hoesly on 1/2/18 12:24 PM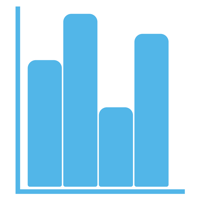 Most companies today collect large amounts of data. Chances are, your company is doing the same. If you're lucky, your data are neatly organized with clearly defined variables that are consistently populated. If you're not as lucky, you may find that your data are incomplete and cluttered in endless spreadsheets, housed in disparate sources that viewed separately provide a clouded view of the whole picture. Clean, usable data enable you to detect trends, inefficiencies, and opportunities for innovation, if you are lucky enough to have it. If you don't, converting this hodgepodge of information into a usable format may seem like a daunting task, but with the help of data scientists, it can be surprisingly efficient.
Data science is used to create structures, architecture, and processes that move information around in a way that is efficient and reproducible. Whether your data are marketing and sales data, loan performance data, health claims data, or data about your favorite football team, data scientists have the tools to combine, clean, and validate data from many sources. The obvious benefit is that you'll save time, but it can also help ensure that the data are accurate and consistent. With a streamlined data process overseen by a data scientist, you can minimize costs, boost quality, reduce risk, and most importantly, use your data.
Minimize Costs
It may seem that hiring a data scientist is more costly than compiling the data in-house, but this is generally not the case. When your data are large enough, having the additional responsibility to clean and organize it becomes a full-time job. A trained data scientist is typically fluent in multiple computer languages and has a suite of technologies at their disposal, reducing what may be a day's worth of copy and pasting into mere minutes with a few lines of code.
Boost Quality
Beyond cost savings, data scientists improve quality. Data are never perfect, and erroneous data, which are difficult to detect and can ruin your analysis, are not uncommon. To combat errant data, data scientists develop and incorporate checks to flag and correct bad data in their process. The automatic nature of these checks is faster and can catch errors that humans will likely miss.
Reduce Risk
Manually combining and checking data is not only prone to error but also leaves no record of the process or changes. Conversely, a data scientist's tools and associated outputs serve as a record of the steps taken to clean and combine the data. This record ensures accurate data and serves as evidence in the event of an audit or litigation matter.
Act on Trends
Finally, your clean data can be used to analyze trends, identify inefficiencies, and detect opportunities for innovation. Now that your data are combined and working cohesively to provide answers, what was once buried in a mess of spreadsheets can now be understood. Data scientists can conduct the analysis and build dashboards and other tools for you to track and analyze your data regularly. Conducting analysis, whether it involves computing summary statistics or applying sophisticated models, can provide cost-minimizing and profit-maximizing insights.
Interested in learning more about how Summit can help with compiling, cleaning, and analyzing your data? Contact Laura Hoesly (laura.hoesly@summitllc.us).