Posted by Julie Weber on 4/18/16 2:00 PM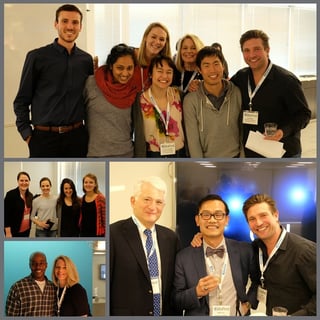 Summit Consulting and the University of Maryland (UMD) recently hosted the second-ever American Statistical Association (ASA) DataFest in Washington, DC. (Read about the first annual DC DataFest here.) This year's special "celebration of data" was co-hosted by the University of Maryland's Joint Program in Survey Methodology (JPSM) and Summit Consulting.
The weekend-long event was made possible by generous sponsorships from the Pew Research Center, Mathematica Policy Research, Washington Statistical Society, the DC Chapter of the American Association for Public Opinion Research (AAPOR), Google, and the University of Maryland Alumni Association.
DC DataFest Kickoff
DC DataFest, like all ASA DataFest events, celebrates data by having "teams of undergraduates work around the clock to find and share meaning in a large, rich, and complex data set." And that is exactly what twenty five undergraduates from five different universities did between Friday, April 8, through Sunday, April 10. Students hailed from George Washington University, Howard University, University of Maryland, Montclair State University, and George Mason University.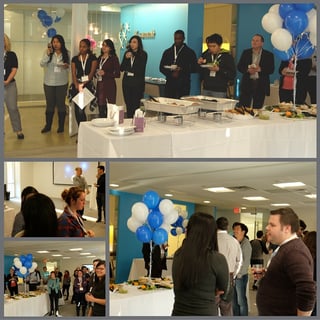 The weekend began with a warm welcome and wishes of luck from Summit Principal Albert Lee and JPSM Professor Rick Valliant–and a surprise visit from UCLA Chancellor Gene Block, whose university hosted the first-ever DataFest in 2011.
At the Friday night reception, data sponsors revealed the subject of this year's data-driven competition: the real-world dataset that the students would be analyzing throughout the weekend. After carefully reminding the students to keep the data secret, the data sponsors released the eight undergraduate teams to begin the exciting competition. Teams quickly found different conference rooms and spaces in the Summit office for brainstorming sessions. Each team focused on generating a research question related to the data then building and executing a master plan related to their research question.
As undergraduate teams wrangled data throughout the weekend, VIP Consultants from sponsor organizations, including faculty and industry professionals, assisted the students in a number of capacities. The volunteer VIP Consultants talked with the students about their approaches, helped troubleshoot coding problems, and offered advice as the teams prepared their final presentations.
Tech Talks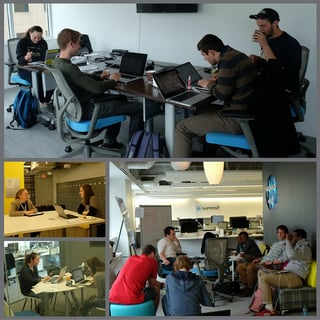 During roughly twenty-five hours of weekend teamwork, several of Summit's data scientists presented technical talks (Tech Talks) on specific topics. These presentations provided another opportunity for students to learn about concepts relevant to their analysis. This year's Tech Talks included:
Elizabeth Byerly, Senior Analyst at Summit: "Exploratory Data Analysis: Cleaning and Merging Data"
David Kretch, Senior Consultant at Summit: "Data Visualization"
Ed Dieterle, Director of Litigation Analytics, Program Evaluation, and Applied Statistics & Economics at Summit: "Presentation Skills"
Attendees, Judges, and Winners
The weekend competition culminated when each team presented its own unique data project to a host of judges. DC's DataFest judges hailed from Mathematica Policy Research, Pew Charitable Trusts, SRI International, and the UMD's Joint Program in Survey Methodology (JPSM). Judges assessed each team on three particular categories: insight, data visualization, and use of outside data. While all eight teams presented well, the top prizes ultimately went to the following teams: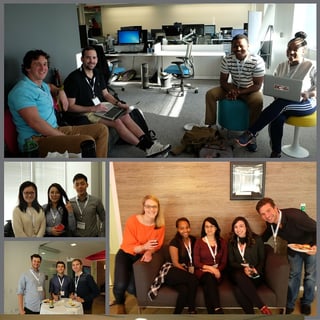 Best Insight: ANOVA's Witnesses
Best Use of Outside Data: PowerBison TurtleSoup
Best Data Visualization: GMU ASA Student Chapter
While there were no formal awards given for the best team name, there were many possible contenders. The full roster of this year's DC teams included: Euclid's Ladies, Stat Attack, Mooncake, and ANOVA's Witnesses (from George Washington University); ÷ and Conquer (from the University of Maryland); PowerBison TurtleSoup (from Howard University and the University of Maryland); GMU ASA Student Chapter (from George Mason University); and Red Hawks (from Montclair State University).
Thank you to everyone who made the second #DCDataFest a huge success. We could not have done it without our supportive and enthusiastic sponsors, volunteers, and students. Here's to many data celebrations to come!
* DC DataFest attendees, VIP consultants, and judges can connect on the Facebook event page, the LinkedIn group, and on Twitter (@DCDataFest). Email dcdatafest@summitllc.us with any questions.