Posted by Melissa Cichantek on 9/13/19 1:38 PM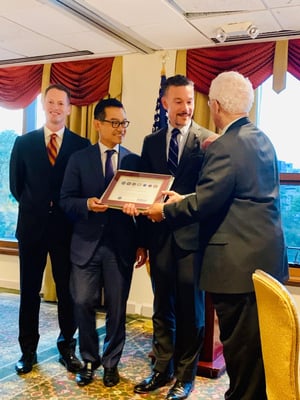 September 13, 2019 (Washington, D.C.) – Summit is honored to announce it has been selected the receive the ESGR Seven Seals Award.
The ESGR Seven Seals Award is presented in recognition of significant individual or organizational achievement, initiative, or support that promotes and supports the Employer Support for the Guard and Reserve (ESGR) mission.
ESGR is a Department of Defense program established in 1972 to "promote cooperation and understanding between Reserve Component Service members and their civilian employers and to assist in the resolution of conflicts arising from an employee's military commitment."
In recognition of support of the ESGR mission, Summit was presented with the Seven Seals Award at the 2019 Employer Awards & Recognition Dinner, held on September 12, 2019, in Fort Myer, VA.
"Since the day I started at Summit, everyone has been extremely supportive of my Navy Reserve service," said LCDR Tom Gardner, the longtime staff member who nominated Summit. "From drill weekends to my year-long mobilization, Summit has gone out of their way to ensure I could be successful in my civilian career, as well as my Naval career, including checking-in on and sending care packages to my wife and children while I was deployed. I couldn't ask for a better, more supportive employer."
"At Summit, culture is central," said Summit Partner Anthony Curcio. "Hiring and recruiting Guard and Reserve members is an important part of that culture. When Tom was activated for almost a year and sent overseas, we were ready to do our part for him and his family, keeping his civilian career on track. He came back a stronger leader and strengthened our culture of service and mission. We are honored to have received this award, and encourage other employers to recruit Guard and Reservists. They will be glad they did."
Learn more about the Seven Seals Award here: https://www.esgr.mil/Employer-Awards/Seven-Seals-Award.
Contact
Kate Lynch Machado | Director of Client Development
kate.machado@summitllc.us
Find out more by visiting http://www.summitllc.us
Follow Summit on Twitter and LinkedIn