OFN Recap #3: CDFI Sustainability and Resilience
December 4, 2020 •James Hargens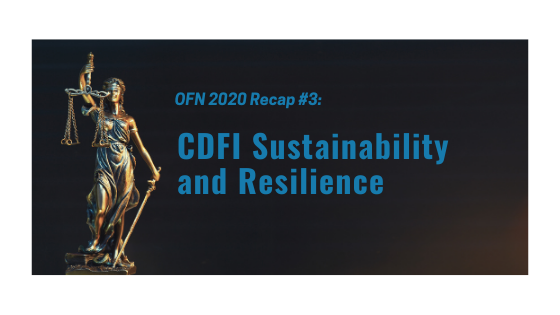 Summit's mission-oriented finance team recently attended the annual Opportunity Finance Network conference from November 9 to November 12, 2020. Due to ongoing concerns around the COVID-19 pandemic, the conference was held in a virtual format for the first time in its history. In total, the Summit team attended 41 breakout sessions over the four-day conference. These sessions covered different aspects of the community development financial institution (CDFI) industry related to the conference's overall theme of finance justice. This three-part blog series discusses the highlights and key takeaways from the conference's main themes:
Part 1: Capitalization, public policy, and financing
Part 2: Racial equity and native CDFIs
Part 3: CDFI sustainability and resilience

CDFI Sustainability
Despite the financial distress brought by the COVID-19 pandemic, the majority of CDFIs experienced moderate or rapid growth throughout 2020. Through government-funded programs like the Paycheck Protection Program under the Coronavirus Aid, Relief, and Economic Security Act, known as the CARES Act, CDFIs received loan capital to distribute among borrowers and community organizations. Additionally, CDFIs developed new funds and partnerships with corporations and philanthropic organizations to increase their lending capabilities and provide financial assistance to businesses and individuals impacted by the pandemic. This unexpected increase in activity created an opportunity for CDFIs to diversify their funders, grow partnerships, and realize greater economic sustainability. The significant increase in capital deployment highlights the critical role CDFIs play in providing assistance to underserved communities and at-risk borrowers during times of crisis.
CDFIs are constantly looking for ways to make an impact. Organizations like the Local Initiatives Support Corporation, Self-Help Ventures Fund, and Community First Fund all exhibited sustainable financing, operations, and expansions throughout the past year despite facing daunting economic conditions. The Local Initiatives Support Corporation recently opened an office in the greater Atlanta area, strategically partnering with other local CDFIs to increase its footprint in the region and provide capital to communities throughout Georgia. Self-Help Ventures Fund, a CDFI based in North Carolina, focused on creating lasting partnerships and diversifying its lending to protect economic viability within the communities it serves. And finally, the Community First Fund, headquartered in Lancaster, Pennsylvania, took a different approach, expanding its services to low-income communities and individuals by merging with Philadelphia-based CDFI Finanta. The merger helped the Community First Fund capitalize on cost synergies, improve efficiency, and diversify its income streams while increasing its impact throughout the state.
Resilience
As the pandemic, a sharp economic decline, and unpredictable weather disasters stress the capital, operations, and capacity of individuals and businesses alike, CDFIs once again embody a characteristic resiliency that allows them to serve the communities impacted most. Organizations large and small work tirelessly to ensure that the communities they serve are equipped with the opportunities, capital, and infrastructure to be resilient following natural and economic disasters. To create a framework for how best to merge resiliency and financial impact, Bank of America, the Rockefeller Foundation, and Opportunity Finance Network came together with other CDFI stakeholders to create the Resilient Community Development Finance initiatives (ResCDF). ResCDF looks to weave environmental, social, and governance factors into all aspects of the community-development finance process. These factors are the three central ones for measuring the sustainability and environmental impact of an investment in a company or industry and serve as a benchmark for establishing resilient communities. These emerging frameworks for evaluating holistic impact provide a compliment to impact investing and the existing work of CDFIs.
Check out the 2020 OFN Virtual Conference recap site to explore the official conference content for free.