The Role of Impact Capital in Advancing Racial Equity
March 8, 2021 •Hattie Brown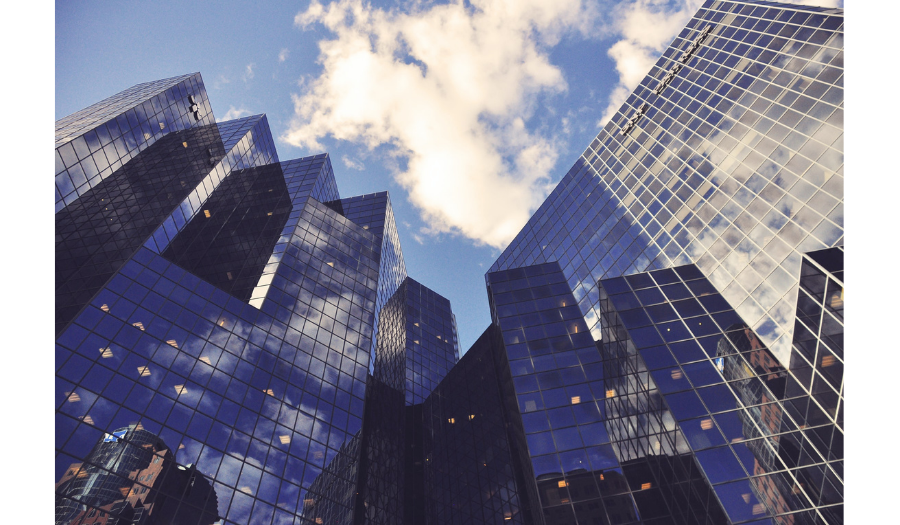 This is the first in a series of three posts on advancing racial equity through access to capital and impact measurement. In this post, we'll talk about ESG and impact investing and highlight organizations in the space. Later, we'll discuss the specific strategies organizations use to measure impact and the opportunities to build upon this work in the Biden administration's Build Back Better plan.
The year 2020 was a landmark one in many ways. In addition to halting daily life as we knew it, the COVID-19 pandemic has exposed structural inequities that have impacted communities of color for generations. One of the most significant hurdles in the struggle for racial equity has been access to finance and building wealth. Based on research by the Department of Commerce in 2010, businesses owned by people of color are denied loans at three times the rate of white applicants, and applicants of color receive loans, on average, for half as much as white applicants, often with higher interest rates. As of 2019, the median net worth of white households was approximately 8 times that of Black households, according to the Survey of Consumer Finances from the Federal Reserve Board.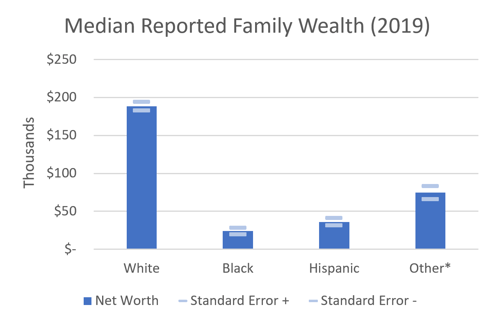 *Other or multiple race group consists of a very racially/ethnically diverse set of families, including those identifying as Asian, American Indian, Alaska Native, Native Hawaiian, Pacific Islander, other race, and all respondents reporting more than one racial identification. Because of small sample sizes, we do not have statistical power to further disaggregate this group of families. Source: Board of Governors of the Federal Reserve.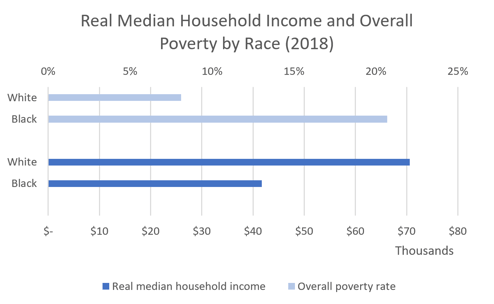 Source: Economic Policy Institute.
In fact, a 2018 report coauthored by the W.K. Kellogg Foundation and Altarum found that the racial wealth gap will cost the U.S. economy more than $8 trillion by 2050 due to changing demographics of the workforce, disparities in earnings, and a loss in consumer spending, among other factors. Today, investors from across the spectrum of asset classes are answering the call for racial equity. Many have been dedicated to this work for decades, while some have pledged a commitment in the last several months, emboldened by the growing strength of a movement sparked by the racial justice demonstrations of the summer of 2020 but generations in the making.
ESG Investing and its Relevance for Racial Equity
The field of ESG (Environmental, Social, and Governance) investing is playing an important role in deploying capital for racial equity. ESG-factor investing refers to the consideration of environmental, social, and governance factors along with traditional financial factors like value and growth in the investment decision-making process. ESG investing can take different forms, but some of the primary methods include integration of ESG risks and opportunities in the investment process, screening based on values of the firm or individual investor, active ownership, and thematic investing.
ESG risks and opportunities

are aspects inherent to a particular business model, such as stress to the water supply for a beverage company (environmental) or controversial sourcing practices for a mining company (social).

Screening is when an investor applies a filter to the investment selection process based upon their values or industry standards. A negative or exclusionary screen could filter out tobacco or alcohol companies, for example. A positive screen could filter for high ESG ratings by independent organizations such as MSCI, Sustainalytics, and other providers.
Active ownership

is the act of investors exercising their rights as owners to engage company management on ESG risks and opportunities and influence change in these areas.

Thematic investing

applies a theme to the investment thesis, often to advance a mission, such as gender and racial equity or alignment with the Sustainable Development Goals (SDGs).
As an example of racial equity screening, the Black-owned social justice investment firm Adasina created an exclusionary ESG screen called the "Racial Justice Exclusion List," which filters out companies for investment based on considerations such as involvement in the prison system, for-profit colleges, and money bail schemes. As an example of active ownership, the group Racial Justice Investing has developed a statement with five calls to action for investors, asset owners, and business leaders to hold themselves accountable. One of the action items is to review portfolio holdings and identify investments that reinforce systemic racism. Based on guidance from the statement, signatories may establish time-bound goals for improvement or divest entirely.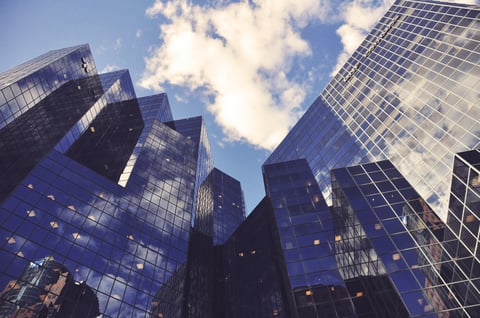 Photo by Floriane Vita on Unsplash
Impact Investing and Its Role in Racial Equity
Impact investing refers to the intention of generating positive, measurable social and environmental impact alongside financial return. There are myriad ways to allocate capital as an impact investment across a spectrum of expected returns. As an example, investment firm Illumen Capital is a leader in addressing implicit bias in the investment process by coaching investors to become aware of their bias and to reduce it through a rigorous training process. As a result, the firm's investment capital may be more likely allocated toward entrepreneurs and communities that have systemically been underserved.
Likewise, Impact America Fund focuses on early-stage companies built for and by people in marginalized communities who may have been overlooked by larger, institutional investors. On the fixed-income side, Calvert Impact Capital has made impact investing accessible to the masses through its Community Investment Note® financial product. The firm invests in areas such as affordable housing, community development, and education, addressing racial equity at its roots.
With so much momentum, many are wondering what the result of these well-intentioned endeavors will be. How can we ensure that the intended impact, moving the needle on racial equity, will come to fruition?
Stay tuned for part two of the series, where we'll discuss the unique approaches of investors and Community Development Financial Institutions (CDFIs) to bring racial equity to the forefront of their business objectives and how they endeavor to measure the impact of their work.
---
If you enjoyed this article, you might also like Summit's articles on discrimination in mortgage lending, racial equity and Native CDFIs, and student loan debt's impact on homeownership.