Posted by Brian Wong on 10/6/14 10:35 AM

--------------------------------------------------------
For today's post, we've decided to switch gears from beer and toy data to examine some messier real-world data that is in the public domain. With fall approaching, the film industry shifts into "awards mode." Studios break out their Oscar contenders and their holiday family films. To join in the movie frenzy, we are examining when and how we would release Zombie Wars (A CGI-filled adaption of the popular simulation from our 1st blog post).
Before we jump head-first into production mode, we thought it would be a good idea to look at movies released in 2013 and see if there were any trends in movie goers' preferences. After scraping data online and doing some cleaning, we ended up with a dataset of 148 movies in six different genres (horror, thriller/suspense, comedy, action, drama, and adventure). In addition to genre, we also pulled data on each movie's production budget and domestic box office revenue. We used these to calculate profit percentage and total profit for each movie in our dataset. Looking at how movies sales trend in relation to their genre could help us determine how we want to market Zombie Wars, whether it be as a high-action, zombie-killing adventure or a scary, twisting horror movie.
We first looked at the average percent increase in profit, (revenue-budget)/budget, by genre, as well as the distribution of this statistic by genre. We also did this for average total profit and the results are displayed in the plots shown below.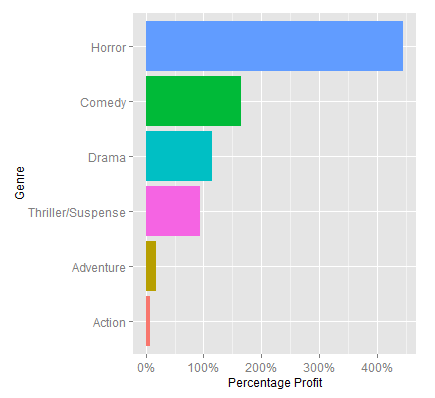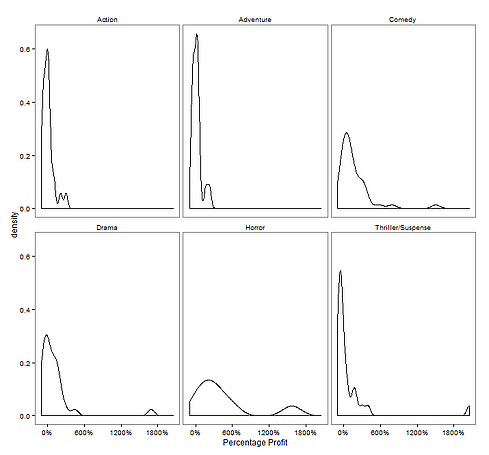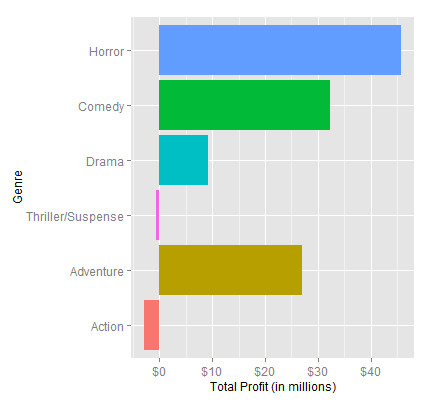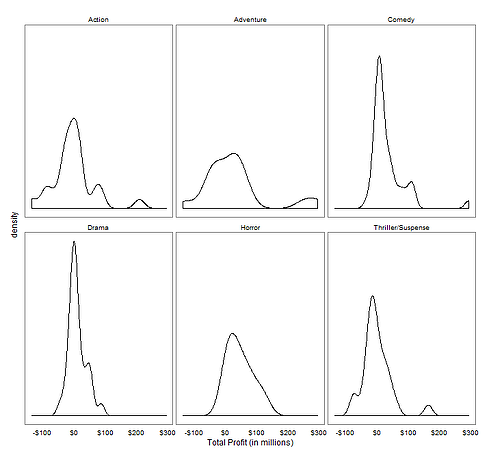 The results show that if we want to make the most bang for our buck, we need to market Zombie Wars as a horror movie. The horror genre performs best in terms of percentage increase in profit and total profit. One can see from the distributions, particularly of total profit, that horror movies tend to have a low amount of variability, while making a substantial amount of profit. Comedies also appear to do well, but unless we want to dupe people with the title Zombie Wars, it is best that we stick to a script and marketing campaign geared toward horror fans.
There you have it: applied statistics to help us market the release of our movie for (hopefully) higher profits. In the next post, we'll look at when to release our movie and if we can learn anything from the biggest flops of 2013.
This post was written with the help of Sejla Karalic and Jon Carver.