We the People: What Is the Federal Register?
February 24, 2021 •Teresa Kline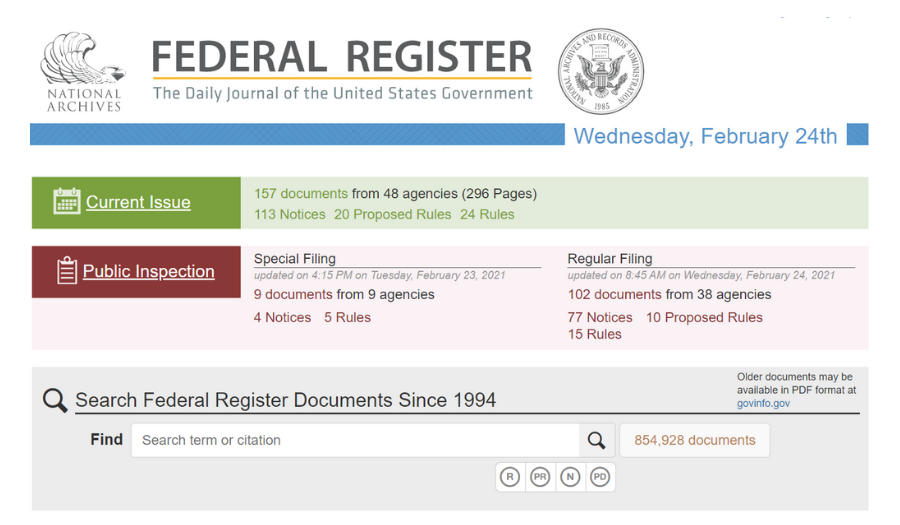 While always a crucial part of government, public comments on federal rulemaking are particularly relevant during the first 100 days of the Biden administration due to rapid changes taking place. Reporting on the administration transition suggests a quick start to new legislation during the first 100 days, including measures on COVID relief, health care, climate, and government reform, among other topics. At Summit, we're keeping a close eye on these proposed policies—see our recent blog posts on the first-time home buyer (FTHB) tax credit and student loan forgiveness.
Many of these actions will result in proposed rules requiring a public comment period on the Federal Register, as government agencies are required to post notices and solicit public comments when creating, modifying, or repealing administrative regulations. The result is potentially tens of thousands of comments analyzed and considered in final rulemaking. From a logistical perspective, this necessitates the analysis of many, many comments per proposed rule. In this two-part blog series, we'll explore why now is such an important time to be discussing this topic, dig into how these analyses actually happen, and discuss the use of NVivo (a qualitative analysis software) to conduct this work.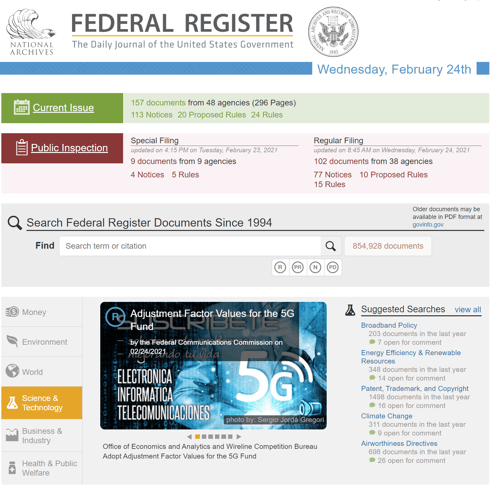 How does commenting on proposed rulemaking work?
The 1935 Federal Register Act―driven by concerns that that legislation was "inaccessible and virtually hidden" to the public―led to the publication of the first Federal Register issue in 1936. Fast forward almost 90 years, and the Federal Register (available online or in a PDF) is now published every workday. Each issue includes proposed rules, public notices, and presidential actions. Once a notice of proposed rulemaking (NPRM) is published in the Federal Register, the public can comment on it during the "notice and comment" period, which generally lasts 60 to 90 days. Comments can be submitted by any individual or organization online via regulations.gov. The number of comments received in response to a NPRM can vary dramatically, from just a handful to thousands.

How do you analyze Federal Register comments?
Typically, there are two main components to this type of analysis:
First, a thematic analysis of qualitative data identifying the main arguments supporting or opposing the proposed rulemaking.
Second, the classification component of defining the source of the comment (nonprofit, individual, for-profit company, educational institution), type of comment (form letter, duplicate, unique comment, non-relevant), and substantive versus non-substantive, etc.
At Summit we use NVivo, a qualitative analysis software, that is particularly well suited to this type of work thanks to its flexibility. NVivo allows analysts to combine both the qualitative data and the classification data to conduct a nuanced thematic analysis.
The output provides a summary of all comments received but also lets us dig deeper into the findings (as we'll explore more in the second post of our series). This helps agencies understand how to weigh the main arguments raised in public comments and can impact the final ruling. For example, the Centers for Medicare & Medicaid Services (CMS) made more than a dozen significant changes to the 2012 Hospital Conditions of Participation Final Rule based on public comments. One of these changes was revising the definition of "medical staff" to include non-physician practitioners who were eligible for hospital privileges per state law. The final rule saves Medicare providers nearly $5 billion over 5 years—highlighting the importance of this process.
Next week, we'll dig into how this analysis really happens—this is where it gets really nerdy and fun, so we hope you'll join us!