Posted by Laura Hoesly on 2/25/15 10:49 AM

Administrative data are increasingly useful for government agencies as the current administration continues to encourage data analytics and evidence-based program evaluations.[1] These data are not collected for research purposes, but for recordkeeping, typically tracking participants, registrants, employers, or transactions. However, these datasets are rich with information that can be useful for evaluating programs and enforcement activities.
So what are administrative data and how can we use them?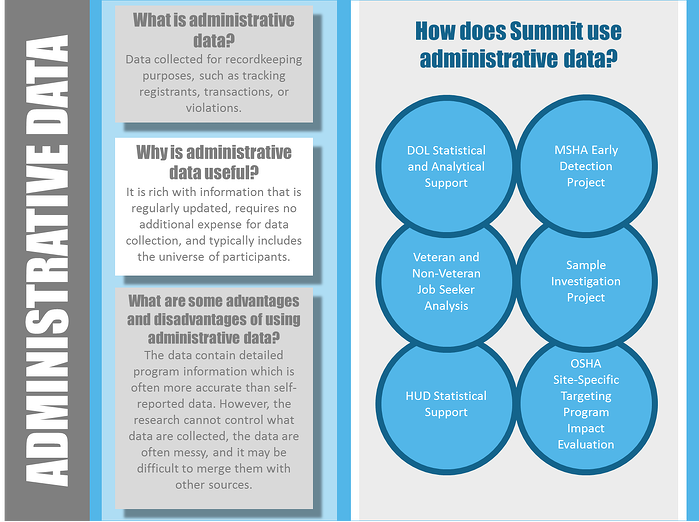 The Pros and Cons
There are many reasons why these data are so useful in analysis. However, these datasets come with certain challenges that must be addressed.
| Pros | Cons |
| --- | --- |
| Typically very large files that provide a lot of information about the programs or activities of interest. | The researcher cannot control what data are collected. Metrics and outcomes of interest may not be available. |
| Information is updated regularly. The most current information can be used in analysis. | Although it is updated regularly, historical records that may be useful in some analyses are not always retained. |
| Data are already collected, obviating the need for expensive data collection procedures. | Data are often messy, with invalid or missing values. There are usually different people who input the data, which may lead to inconsistencies. |
| Data are often more accurate than self-reported information collected through surveys. | Datasets may not be designed to merge with external data, which may be required for analysis. |
How We Use Administrative Data
Several directorates within Summit use administrative data for their contracts.
The Program Evaluation (PE) directorate is familiar with several administrative databases within the Department of Labor (DOL), including data from the Occupational Safety and Health Administration (OSHA), Employment & Training Administration (ETA), Mine Safety and Health Administration (MSHA), and Wage & Hour Division (WHD). Click here to find out more about these databases.
The PE team has used these datasets to conduct program evaluations (OSHA Site Specific Targeting Program), outcomes analyses (Veterans Analysis), and predictive analyses (MSHA Early Detection, also currently in the news). The PE Team also contracted with the DOL Chief Evaluation Office to provide support a services initiative to help DOL agencies better understand their administrative data and leverage this data to improve their policies, programs, and regulatory initiatives. Summit designed and conducted short-term analyses for various agencies.
The Applied Statistics and Economics (ASE) directorate has used administrative retirement plan tax forms to develop a sampling method to estimate baseline Employee Retirement Income Security Act (ERISA) compliance rates of employee benefit plans (Sample Investigation Program Project), as well as used administrative investigation data to determine what characteristics of retirement plans are associated with ERISA violations. In work supporting the Department of Housing and Urban Development (HUD), Summit developed models using administrative data on real estate loans to estimate whether there are statistically significant differences in denial rates across protected classes, which could be evidence of discrimination.
Using administrative data for rigorous program evaluation purposes provides researchers the opportunity to use data collected for programmatic, regulatory, and law enforcement purposes to better understand the characteristics, behavior, or needs of groups of individuals, communities, or industries. Although the data often come from individuals, data about any given individual is never made public, and are never used to make decisions about that individual. We at Summit have extensive experience acquiring data from administrative data collection systems and converting the information to data sets appropriate for research and analysis.
This post was written with the help of Natalie Patten and Dr. Ed Dieterle.
[1] U.S. Executive Office. (2015). Fiscal year 2016: Analytical perspectives of the U.S. Government. Washington, DC: U.S. Government Printing Office. http://www.whitehouse.gov/sites/default/files/omb/budget/fy2016/assets/spec.pdf