Posted by China Layne on 9/16/16 9:00 AM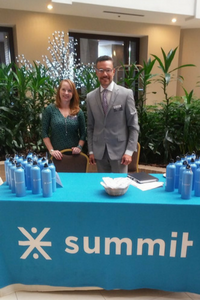 This week, Summit attended the 2016 Annual Conference of the Association of Public Data Users (APDU) in Alexandria, VA. APDU works to raise awareness of available public data, support the use of public data, and facilitate communication among the producers, disseminators, and users of public data.
Summit was one of several sponsors and exhibitors at the APDU conference, including the Economic Research Service (ERS), the Bureau of Economic Analysis (BEA), and the Laura and John Arnold Foundation (LJAF).
The first day of the conference included keynote speeches by Katherine K. Wallman, Chief Statistician of the Office of Budget and Management (OMB) and William Frey, Senior Fellow at the Brookings Institution. Across the two days of the conference, leaders from government agencies, non-profit organizations, and private companies presented on a variety of topics related to collecting, providing, and using open data to support better decision making.
Brian Moyer, Acting Deputy Director at BEA (@BEA_News on Twitter), discussed using external, private sector health claims data to improve estimates of healthcare spending for BEA's satellite accounts.
Ashley Storms, Associate Analytic Reporting Manager at the Center for Health Information and Analysis (@Mass_CHIA on Twitter), discussed the Center's current work with analyzing enrollment data from the Massachusetts All Payer Claims Data (APCD).
Jennifer Thornton, Manager of Data as a Strategic Asset at the Pew Charitable Trusts (@PewTrusts on Twitter), provided interim results from an analysis of how states utilize administrative data when crafting policy, focusing on their key challenges and potential strengths.
Anthony Curcio, Principal at Summit, presented as part of the "Building Demand for Open Data" panel. Mr. Curcio (@JAnthonyCurcio on Twitter) discussed the perspective of Federal agencies, which are under data transparency obligations, but may need to better understand the benefits and potential risks to their agency of data transparency.
Along with Mr. Curcio's presentation, Summit provided a white paper on the topic, "Are Your Administrative Data Ready for Public Use?" Click here to read the new white paper, which includes a one-page checklist to help agencies navigate these crucial decisions.