Posted by Brian Wong on 9/15/14 10:58 AM

--------------------------------------------------------
Summit staff, including Principal Albert Lee, will be attending the Predictive Analytics World for Government conference in Washington, DC this week. Our staff are excited to learn about the many applications of predictive analytics in government. But the depth of analysis provided by predictive analytics also got us thinking about its more off-beat applications.
What is predictive analytics? Predictive analytics is the new and popular approach to providing large-scale, data-driven solutions to everyday problems. More specifically, it is the application of statistical techniques, particularly in model estimation and data collection, to large datasets. An effective predictive analytics process provides insights about a dataset to drive business or agency decisions.
Federal, state, or local governments can use predictive analytics to estimate annual tax revenue. Using sampling and estimation techniques, it is possible to produce fairly reliable estimates of actual tax revenue in the following year. This allows governments to make essential budgetary allocation decisions early on so they can fund numerous departments and initiatives.
Predictive analytics has far-reaching applications. Aside from being able to predict revenue and other events to help inform decision making, predictive analytics can be used for amusing and unlikely scenarios, such as a zombie apocalypse.
Let's say the world is being threatened by a zombie invasion. Using simulation tools and assumptions about the nature of the impending zombie takeover (e.g. the rate at which humans can kill zombies, the number of people a zombie infects per day, etc.), we can model the effects of a zombie apocalypse.
Say we have a population of 5,000 people (including two infected zombies). A zombie infects two people per day on average, while the average person can kill one zombie per day (which increases as people become more adept at killing zombies). The following figure shows this simulation, demonstrating the rate of zombie infection and human survival over time.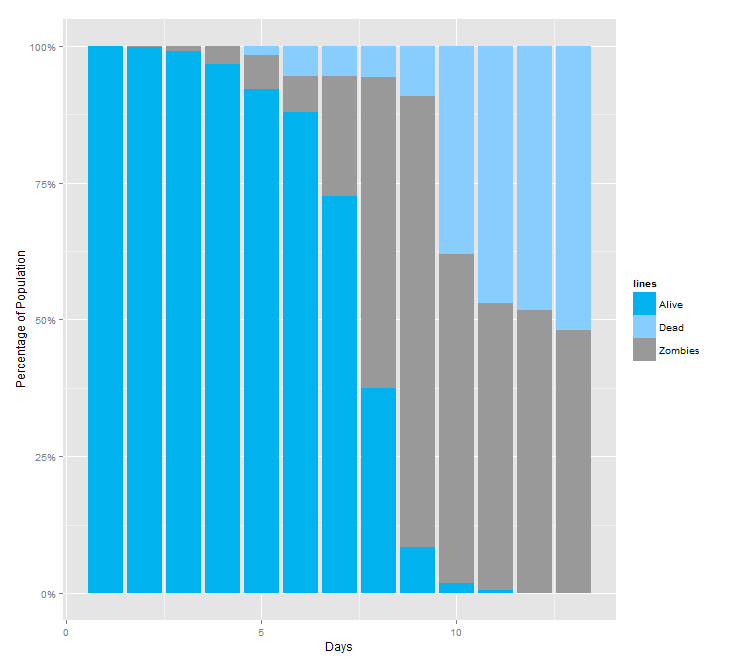 We can immediately see that the zombies win. Valuable statistics such as the actual infection rate, the length of time it takes to wipe out the human population, and the average total zombie kill rate can be extracted from the results.
While this is just a figurative example, it shows the versatility of predictive analytics. As Summit explores the applications of predictive analytics, we will detail these applications and provide insight into how they can drive policy and business decisions.
This post was written with the help of Sejla Karalic and Jon Carver.