Posted by Joseph Bateman on 4/19/18 9:05 AM

--------------------------------------------------------
In the fourth blog of our Mission-Oriented Finance series, we discuss portfolio monitoring.
After a mission-oriented investor makes a grant, loan, or other investment, Summit assists in monitoring the ongoing performance of that investment. Summit's approach to portfolio monitoring for mission-oriented investment includes both an analysis of the financial performance as well as the impact of the investment. A loan typically requires proportionately more reporting related to the borrower's financial health than a grant, which might require a proportionately higher level of impact reporting. Summit recognizes that different types of investment require different levels of oversight. Our team has worked with both grantors and lenders to develop appropriate reporting requirements to more efficiently evaluate the financial health of the recipient of the grant or loan. For example, Summit has worked with the Community Development Financial Institutions (CDFI) Fund to develop specific financial ratios to monitor the financial health of borrowers within the Bond Guarantee Program on a quarterly basis. Additionally, Summit assists in developing reporting metrics and evaluation strategies for monitoring the ongoing impact of loans and grants.
The figure below shows a sample portfolio monitoring map tool.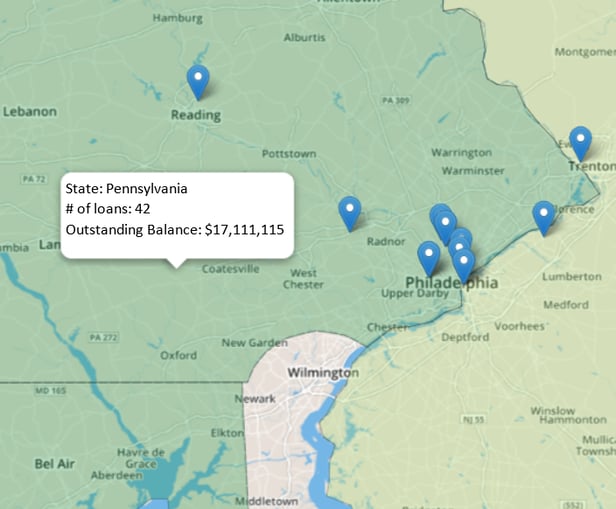 Additionally, these frameworks include specific actions that the portfolio management staff should take if the portfolio does not perform as expected. For example, financial ratios included in the portfolio reporting that indicate deteriorating liquidity might result in a call with the borrower, or a failure to deploy the grant funds to a proposed community development project within a given time period might result in requesting a detailed plan for carrying out the activities originally envisioned under the grant. In each case, Summit works closely with our clients to define and articulate a customized portfolio monitoring framework.To assist mission-oriented investors in conducting portfolio monitoring, Summit develops portfolio monitoring frameworks for clients, produces detailed reports of our portfolio monitoring activities, and develops automated tools to more efficiently conduct this analysis and produce reports. Summit assists clients in analyzing and developing strategies for monitoring portfolios of investments through alignment with credit risk policies and the organization's mission. Robust frameworks for portfolio analysis include an outline for what will be monitored (i.e. which financial or impact metrics), why these specific metrics were chosen, who will be responsible for conducting the analysis and generating reports, and who will review.
After assisting clients in developing their own frameworks, Summit also assists clients in conducting ongoing portfolio monitoring in accordance with the framework. Summit's team often builds customized reporting tools for clients to facilitate automation of portfolio performance reporting. These reports can include maps of investments or grants, financial ratios of interest, impact measurements, and other key performance indicators. Clients often use these automated to facilitate reporting additional useful information to boards of directors or other oversight and management staff within an organization. Whether our client deploys grant capital, loans, equity, or a mix of different financial products, Summit demonstrates experience assisting clients in building and executing robust portfolio monitoring frameworks.
In the next and final blog related to Summit's Mission-Oriented Finance work, we focus on impact measurement and evaluation. For more information on Summit's mission-oriented finance work, please contact Summit Director Susan Newton-Rhodes or Senior Manager Ian Weise.