Posted by Tim Book on 10/10/17 11:10 AM

--------------------------------------------------------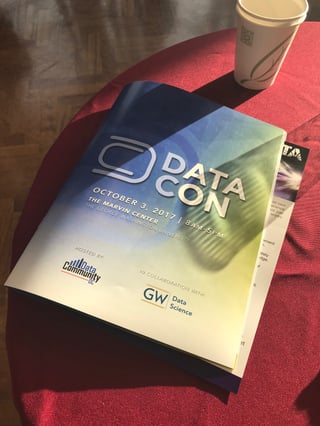 Last week, I attended the inaugural DC DataCon hosted by Data Community DC at the George Washington University. The event featured a series of talks on a diverse range of topics, like how to lead a collaborative team of data scientists, the ethics of data collection and its use, and even the potential impacts quantum computing might have on machine learning algorithms (quantum MCMC, anyone?)
Of particular interest to me was the keynote address given by Angela Zutavern, co-author of The Mathematical Corporation, who discussed the ways Big Data and deep learning are changing how companies and government organizations approach business decisions. For example, the U.S. Census Bureau hopes to save $5 billion in the 2020 census by using artificial intelligence (AI) to direct their enumerators (in-person survey takers) where to go to gather required data. She also discussed the shifting job market that AI is going to produce. Recently, it had become national news that a self-driving truck had made its first cross-country delivery, but I was shocked to learn that an "AI biologist" had discovered an improved malaria vaccine that was far too complicated for a human to develop.
The afternoon talk by Jules Polonetsky, director of the Future of Privacy Forum, asked some deep questions on the ethics of data collection that I hadn't previously considered. The "Internet of Things" paradigm shift has come with an unintended side effect for many companies: When an organization collects too much data, do they have ethical responsibilities?
Tesla collects data on the driving history of every one of its cars to improve their self-driving algorithms. Does Tesla have a responsibility to detect whether a user is driving while impaired? If they detect a driver is driving unsafely, what responsibility do they then have to report this? If an Amazon Echo detects domestic abuse, is it Amazon's responsibility to call the police? And if the police are called, does Amazon have an ethical obligation (or requirement) to turn over data? Our current laws provide no clear answer to this, and the Future of Privacy Forum seeks to aid in discussion and education in this unexplored space.
I was privileged to exchange ideas, philosophies, and methodologies in casual conversation that I would not have been able to find elsewhere, because the event attracted many interesting people with diverse backgrounds in the world of data
The conference was run so smoothly and efficiently, it was impossible to tell this was the first one. I want to thank Data Community DC, GW, and all other sponsors for making this event possible and hope to be more involved next year!