Posted by Joseph Bateman on 4/12/18 1:20 PM

--------------------------------------------------------
In the third post of our mission-oriented finance blog series, we discuss evaluating impact and alignment with mission for potential investments.
Summit works closely with stakeholders to define the purpose and desired impact of their investments, while ensuring those investments align with their mission statements. Clearly understanding the desired outcome or impact of an investment enables more effective deployment of capital, monitoring of the performance of the investment, and reporting. Based on the investor's mission and established programmatic initiatives, Summit implements evaluation criteria to measure potential investments alignment with that mission or programmatic objective. In the establishment of a new program, Summit works with investors to frame projected programmatic impacts and develop materials to generate a pipeline of transactions that are mission-focused and programmatically aligned. Summit conducts analysis of investors' pipelines to score these potential projects on their impact. To conduct this analysis, Summit often builds customized tools for our clients, tailored for their specific objectives, asset classes, and investment types.
Summit works with governmental entities and recipients of government awards whose lending and grant programs are subject to extensive oversight and regulations. Alignment with mission for these organizations is often elevated to legal and regulatory compliance. Other investors' boards of directors guide the overall mission and strategies for investment, whereas some organizations might rely on an internal senior management team to develop the underlying objective for investments. For each investor who seeks to deploy capital aligned with an overarching community development or related goal, whether congressionally mandated, government regulated, or board-approved, Summit works closely with the client to ensure that investments further our clients' specified objectives.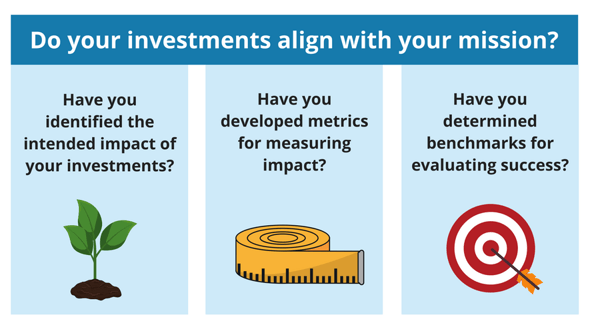 Summit helps mission-oriented lenders and investors by evaluating if a potential investment aligns with the investor's mission. Summit works with clients that invest in a small set of specifically identified high-impact sectors, including healthcare, education, or other sectors that invest in a wide variety of products to more broadly benefit low-income communities or serve an economic development purpose. For example, EPA's Water Infrastructure Finance and Innovation Act (WIFIA) focuses on increasing investment in water infrastructure in areas of the United States that are often low-income; Summit assists in evaluating potential investments both for regulatory compliance, as well as alignment with the program's underlying mission. For large foundations and other philanthropic investors, Summit aids in evaluating a potential investment's alignment with mission or specific programmatic objectives or goals.
Finally, even before an investment decision is made, Summit works with clients to identify the intended impact of the investment, develop metrics for measuring impact, and determine benchmarks for evaluating success in terms of achieving the desired impact. This process will be more fully discussed in a future blog devoted to Summit's approach to impact evaluation for mission-oriented investors.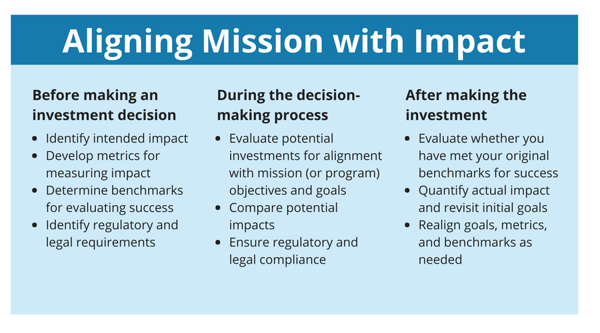 For more information on Summit's mission-oriented finance work, please contact Summit Director Susan Newton-Rhodes or Senior Manager Ian Weise.