Posted by Josh Goldberg on 2/6/20 1:41 PM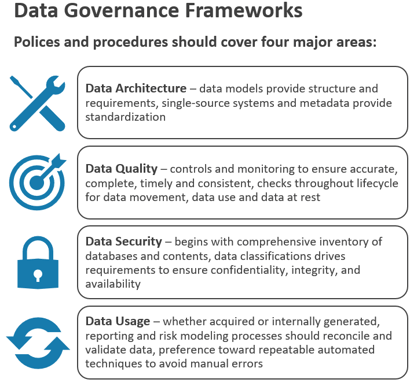 Effective data management and data usage are critical to the success of financial institutions. Many leading organizations, including dozens of Federal agencies with lending programs, have opted to add dedicated Chief Data Officers (CDOs). One of the primary decisions that a CDO needs to make is how to design and implement a Data Governance Framework.
What is a DATA GOVERNANCE FRAMEWORK?
In 2016, Federal Housing Finance Administration (FHFA) issued Advisory Bulletin (AB) 2016-04, which lays out a road map for how institutions should build a Data Governance Framework. As shown in the table below, AB 2016-04 describes four areas that need to be covered by any Data Governance Framework: Data Architecture, Data Quality, Data Security, and Data Usage.
DIFFERENT INSTITUTIONS NEED DIFFERENT SOLUTIONS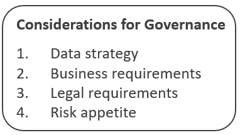 Different financial institutions will need different data strategies depending on their business models, and legal requirements will differ based on their placements within the financial services industry. Each institution must also calibrate how much risk they are willing to take relative to adverse outcomes that can arise from mishandling data.
WHAT ABOUT BIG DATA?
There are special considerations for companies that use Big Data. Different data sources (e.g. social media, transaction data) and non-traditional data sources (e.g. text and pictures) require different standards of care. But the same underlying governance principles apply.
What Should you consider WHEN CREATING OR UPDATING YOUR ORGANIZATION'S UNIQUE FRAMEWORk?
As each institution explores how to custom fit such a framework, new roles and responsibilities emerge for Data Stewards, Data Managers and Data Users. It is important to clearly delineate such roles to avoid confusion. For instance, the Data User, at one institution may be responsible for identifying Critical Data Elements (CDEs) while in another this may be the task of a Data Steward. In either case, business criticality needs to be systematically considered. This is in addition to identifying categories of sensitive data, such as personally identifiable information, intellectual property, and non-public information.
Data management can be a competitive advantage or disadvantage. But it all starts with carefully selecting a Data Governance Framework that works for your organization's needs.