Posted by China Layne on 9/19/16 11:00 AM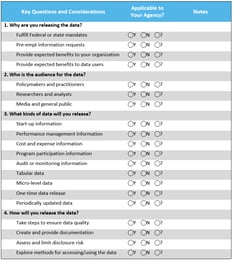 In recent years, various groups have asked government agencies to release their administrative data. Before thinking about the considerations an organization should weigh before releasing its administrative data, it's important to discuss the benefits of making this information available.
In recent years, various groups have asked government agencies to release their administrative data. The increased public demand for government collected data has led to Federal guidelines and legislation to meet these demands for access. Memorandums (like the Open Government Directive of 2009) and legislation (like the Digital Accountability and Transparency Act, or DATA Act, passed in 2014) made more government data available to the public online. Other organizations have released administrative data because of an increased call for accountability and transparency by the media and general public.
Before deciding whether to publicly release administrative data, organizations should be aware of some of the concrete benefits of joining the "open data bandwagon."
As organizations begin to comply with government mandates or release data to be more transparent, it's important to note the benefits of making administrative data publicly accessible. Releasing administrative data can help aid external researchers in secondary analyses. These analyses can help your organization uncover new ways to measure and track program impact or performance. It's also important to consider that the preparation that goes into readying data for the public and the feedback given to an organization from data users can increase the utility of the data.
Making this administrative data publicly available can also establish an organization as an authoritative resource in its respective discipline. If an organization releases its information, researchers may more frequently turn to the organization for other research needs. An organization can also receive verification of its own research if external researchers are able to accurately recreate the project. As research verification becomes a growing expectation in many fields, publicly releasing administrative data can support these efforts.
If you've decided to publicly release administrative data, it's time to consider some questions about how to best release your data. From deciding who your audience is to what kinds of data you'll release, Summit created a checklist to determine what choices are best for your organization.