Posted by Oswaldo Urdapilleta on 9/18/17 10:37 AM

--------------------------------------------------------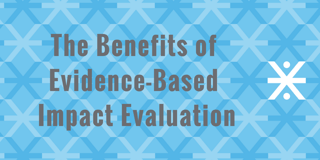 Government agencies and non-profit organizations (foundations and social investors) face a growing demand for services and support from limited resources. In this context, scarce social investment resources must be directed to programs and strategies that have clear and sustainable impacts, or that foster these impacts, on socially desirable outcomes and goals.
Organizations facilitate innovation by providing seed capital, relaxing regulations, or simply by introducing pilots of targeted programs. Several organizations have begun asking for evidence-based research supporting agents of change requests for funding. For example, the Office of Management and Budget (OMB) is constantly requesting evidence-based research when federal agencies seek to introduce new programs or change regulations. In the last week, the U.S. Commission on Evidence-Based Policymaking issued its final report, which provides recommendations for Strengthening Federal Evidence-Building Capacity.
When designed and conducted properly, impact evaluations provide sound and reliable findings that inform what drives change and where innovations are more effective. Randomized control trials, sophisticated quasi-experimental design techniques accompanied by mixed research methods, allow funders and government agencies to identify and isolate activities that have the biggest impact and introduce policies or recommendations that are based on evidence-based research. Through impact evaluations, we are able to understand what works and what does not, and get a glimpse of what obstacles to overcome to attain positive outcomes and scaling up.
Government agencies at all levels and non-profit organizations will continue investing in innovation that is proven effective. Rigorous impact evaluations are important tools to provide answers on the effects on short, medium, and long-term outcomes. Below we discuss examples of work in the federal space on using evidence-based research for policymaking.
Labor markets in the U.S. are expanding and there is an increasing share of the population that is over 65.Both new conditions require that federal agencies make the most use of their budgets in meeting their goals and leveraging effective strategies. Two agencies are leading the charge in the healthcare and labor markets in order to validate the effects of creative strategies and re-engineer processes to address the growing older population and complex labor markets: the Center for Medicare and Medicaid Innovation (CMMI) at the Centers for Medicare & Medicaid Services (CMS) and the Chief Evaluation Office (CEO) at the U.S. Department of Labor (DOL).
CMMI and CEO are introducing innovative ideas to change the landscape of healthcare delivery and how the federal government supports employers complying with the labor laws. For example, CMMI is introducing innovation by bundling payments for a range of procedures and service providers and CEO is testing behavioral interventions to encourage employers to voluntarily behave in ways that improve socially desirable outcomes that are compliant with labor laws.
Both agencies are testing and measuring the effects of innovation in their corresponding areas. These agencies are relying on rigorous evaluation and research methods to assess and validate the impact of innovation. It is crucial that these alternative approaches and pilot programs are measured rigorously, as public policy changes may follow from specific findings and recommendations.
We expect that other agencies and foundations will ask for evidence-based research supporting requests for new program's funding. More details on what funders are looking for from potential grantees in our next blog.
Brian Quinn from the Robert Wood Johnson Foundation and I will discuss how Community Development Financial Institutions (CDFI) stakeholders can use evidence-based impact evaluations to further their mission during the OpportunityFinance Network (OFN) conference on September 27th.