Posted by Albert Lee on 7/28/20 1:35 PM

With over 15 years of hands-on data analytics experience, Summit Consulting's team of experts support a variety of programs that strengthen Rural America, including health initiatives. For these health projects, we support hospital and healthcare personnel, policies, and objectives. Through our rigorous evaluation frameworks, statistical methodologies, and data analysis capabilities, we analyze policies and develop programs to mitigate adverse issues addressing the social determinants of health – including the areas of housing (including residential care facilities – nursing homes and assisted living facilities), access to health facilities and healthcare, employment, finance, and access to services (like Broadband services).
We conduct quantitative and qualitative analyses and program evaluations of public sector programs, while providing the methodological rigor and transparency demanded by federal agencies. We work with the Department of Housing and Urban Development's (HUD) Office of Healthcare Programs (OHP), the Centers for Medicare and Medicaid Services (CMS) and Health Resources and Services Administration's (HRSA) Rural Maternity and Obstetrics Management Strategies (RMOMS) Program, DOL's Employee Security Benefits Administration (EBSA), Treasury's Community Development Financial Institutions Fund (CDFI Fund), and Department of Agriculture's (USDA) Rural Development programs.
Our partnerships with Kaiser Permanente, HUD OHP, and most recently, HRSA have allowed us to take steps into becoming experts in providing data analysis and visualizations for health-related non-profits and federal agencies. This expertise stems from our staff's growing knowledge of health, health systems (including rural health), and the intersection of employment, housing and finance on individuals and communities.
OUR MISSION AND KEY AREAS
In addition to delivering mission-focused data insights and analytics, Summit Consulting experts use analytical expertise to serve populations which often unfortunately find themselves left behind. By supporting our business partners and clients with their programs, we can address social and economic pressures that disproportionately affect under-served and vulnerable populations. This mission extends to vulnerable rural communities where Summit's analytic insights support housing, healthcare, labor, financial growth, and broadband access programs aimed to improve the lives of people even in the smallest of communities.
HOUSING PROGRAMS
Housing is one of the key areas contributing to the social determinants of health. Our staff recently studied how the COVID-19 pandemic could impact home prices and the broader economy, notably by modeling and forecasting how communities, including rural populations, will fare. The Summit experts noted the "most likely" scenario was a recession, in which the economy suffers a protracted slump. Due to likely flare-ups of hot spots and halting returns to economic activities, the return to growth is projected to not start until late 2020, with a return to "normal" operations occurring in late 2021 or early 2022. Summit leaders expect significant disruption to numerous industries, leading to a large reshuffling of industrial organization, supply chains, and a permanent shift to a lower (parallel) trend path of home prices. We expect the impacts of COVID-19 to be large and have a lasting impact on home prices and access to affordable housing – impacts that will particularly be felt by rural populations.
HEALTHCARE PROGRAMS
Summit Consulting led an engagement providing HUD OHP with risk management and analysis services. This encompassed a portfolio of nearly 90 hospital mortgages, many of which are in rural communities, with outstanding balances approaching $8 billion. Summit developed an online, interactive Portfolio Management Dashboard for the Section 242 Mortgage Insurance Program for hospitals. The analyses developed for this Dashboard are employed by OHP management and Account Executives to monitor and review the financial risks of the portfolio and individual loans. The Summit team also developed a risk rating methodology designed specifically for evaluating OHP's loans and a watch list methodology for quantitatively identifying risky hospitals or those with declining financial performance. Using these tailored metrics and calculations, the team developed a tool for underwriting loans and has incorporated this risk scorecard directly into the online dashboard. Summit also led the development of an internal set of documents that guides policies and procedures for loan origination and portfolio management. This entwined historical documentation and guidance with the newly developed methodology to provide OHP staff with a set of codified policies and procedures.
Figure 1: Customized risk management solutions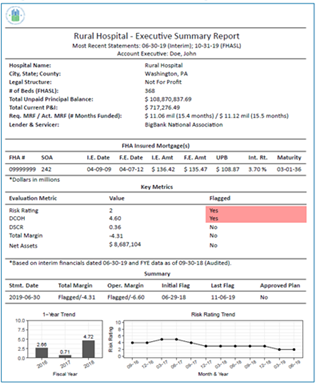 Summit provides risk management and programmatic support for dozens of grant and loan programs with clear mission-oriented goals. These goals help us address the social determinants of health and range from increasing investment in under-invested, impoverished, and/or rural areas of the United States, constructing or rehabilitating infrastructure, increasing access to affordable housing, and other areas of community and economic development.
Within HUD OHP, our client in the Office of Hospital Facilities (OHF) administers Section 242 of the National Housing Act, which provides mortgage insurance for acute care hospital facilities ranging from large teaching institutions to small rural critical access hospitals. OHF is headed by the Director of the Office of Hospital Facilities and is comprised of two divisions which support underwriting and asset management of FHA-insured hospital loans.
In addition to our work supporting HUD's healthcare-related programs, Summit is part of the HRSA Rural Maternity and Obstetrics Management Strategies (RMOMS) Program Evaluation team. The RMOMS program aims to improve access to and continuity of maternal and obstetrics care in rural communities. The goals of the RMOMS program are to: (i) develop a sustainable network approach to coordinate maternal and obstetrics care within a rural region; (ii) increase the delivery and access of preconception, pregnancy, labor and delivery, and postpartum services; (iii) develop sustainable financing models for the provision of maternal and obstetrics care; and (iv) improve maternal and neonatal outcomes. Applicants are encouraged to propose innovative ways to achieve these goals through an established or formal regional network structure. Several states have joined the pilot RMOMS program to demonstrate the impacts of access to and continuity of maternal and obstetrics care in rural communities. Summit is supporting the evaluation design and data analytics for this pilot program.
Summit staff have also worked as part of CMS' Frontier Community Health Integration Project Demonstration (FCHIP) program, a demonstration to develop and test new models of integrated, coordinated health care in the most sparsely-populated rural counties. The FCHIP program intends to improve health outcomes and reduce Medicare expenditures. Innovations brought by improved access to ambulance services, skilled nursing facilities, nursing facility beds, and Telehealth have been critical to expand health care services and reduce expenditures in rural areas.
To help our clients understand the severity of the unexpected risk imposed by COVID-19 on the OHP's hospital facilities mortgage portfolio, Summit's Data Science team built a geographic visualization in R using four packages called leaflet, tidyverse, ggmap, and tidycensus (Note: this visualization can be delivered as a dynamic web application via Shiny which is R's web application framework). These four R packages easily allowed for consistent data inputs from both the New York Times and HUD websites as well as geocoding of the hospital locations for plotting on the map. The objective of the map is to convey which hospitals might become financially unstable due to an overwhelming amount of COVID-19 cases that occupy beds typically reserved for elective care. Moreover, our client can assist these hospitals in managing their loan repayments during an unprecedented, financially challenging period.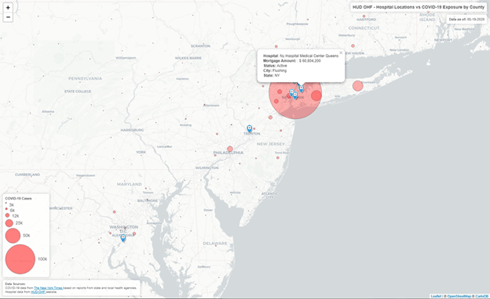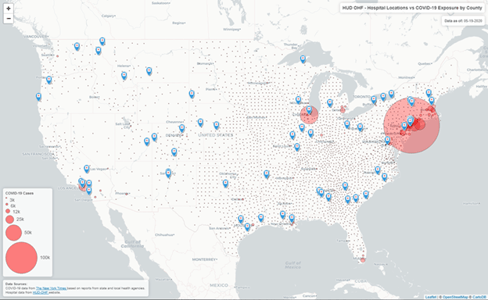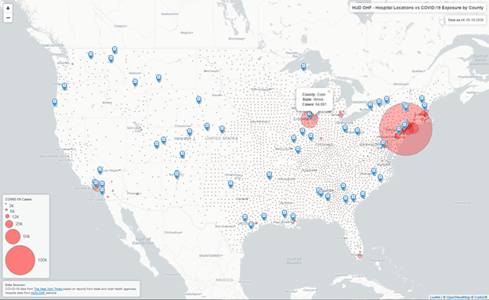 LABOR
The Department of Labor (DOL) Employee Security Benefits Administration (EBSA) safeguards private sector employee benefit plans. These benefit plans include employer-sponsored health plans that cover over 140 million Americans. Since 2015, Summit has served EBSA and supported dozens of regional and national investigations against health plan providers through sampling techniques and statistical analysis. Over the past five years, Summit has become a trusted advisor to EBSA to identify bad actors and help American taxpayers recoup millions in improper payments and wrongful denials. Recently Summit began assisting EBSA in their consideration of adding a health enforcement tool in which the field can input and test data for compliance with the Mental Health Parity and Addiction Equity Act (MHPAEA) – specifically the Quantitative Treatment and Financial Requirements Limitation testing.
community development FINANCE
Community Development Financial Institutions (CDFIs) are mission-based lenders that serve some of the most vulnerable communities in our society, providing funding to typically underserved and low-income individuals and families. As such, CDFIs have tremendous impact in guiding investment into areas where it is most needed, at times when it is needed most.
Summit recently developed a tool to help our mission-based clients visualize the areas heavily impacted by the COVID-19 pandemic. The graphic data displays developed by Summit allow more accessibility, better enabling our mission-based clients to gain the information they need about the severity and unexpected risks presented to their operations by COVID-19.
By developing this tool, the Summit Team assisted its mission-based clients, including the CDFI Fund, in visualizing the regions heavily impacted by the COVID-19 virus. This allows Summit's mission-based clients to respond to the ongoing pandemic in an efficient and effective way by providing vital loans, investments, or technical assistance to the communities in need during this period and beyond.
This tool, built primarily in R using three packages, leaflet, tidyverse, and tigris, tracks and displays the total number of confirmed COVID-19 cases and deaths by county, overlaid with the locations of CDFI Fund Certified CDFIs. Our tool also contains layers for Initial and Continued Unemployment Claims, as well as a layer that displays the trends associated with confirmed COVID-19 cases.
Here are two visualizations we created with the tool. The first shows Initial Unemployment Claims overlaid with Certified CDFIs for the contiguous United States, while the second shows the percentage change in the seven-day moving average of confirmed cases.

Summit uses CDFI Fund data to map where transactions occur, then compares this to government data showing where there is economic distress and underinvestment, ultimately encouraging greater investment in the distressed areas. By presenting data that encourages CDFI to invest in rural regions, Summit helps to stimulate the flow of capital to under-resourced small businesses. Summit has also advised the administration of USDA's Rural Development Rural Business-Cooperative Service on matters such as credit subsidies and modeling. Through this experience and direct interaction with Rural Development field offices, Summit has an in-depth understanding of how rural business programs are operated and governed.

About the data: In developing the tool, the Summit Team use data available from the Department of the Treasury, CDFI Fund, The New York Times, and FRED. The data sources are used to populate the CDFI markers, COVID-19 county overlay, and unemployment data, respectively.
Infrastructure - BROADBAND SERVICES
Summit has a unique combination of experiences in terms of both technical expertise and subject matter knowledge of infrastructure supporting rural communities through our work in areas of rural development with the USDA Rural Development office over the past seven years. Our experience working on high-profile, key agency initiatives includes supporting the USDA's Rural Utilities Service's Broadband ReConnect Program. This highly relevant program is essential during the COVID-19 pandemic by supporting rural communities, including individual homes, healthcare facilities and employers, gain access to Broadband services. The "Broadband Proposal Processing Support Services" engagement provides infrastructure improvements to rural communities to improve economic opportunities and offer quality of life enhancements. Our team of underwriters and finance experts harmonized financial, technical, and environmental data from all project stakeholders, both internally with RUS staff and externally with applicants and project advisors.
Seasoned subject matter experts
Summit's team has a wealth of experience across disciplines: program management, program evaluation, and healthcare analytics. The following staff have relevant experience which can immediately add value to VHA ORH:
Oswaldo Urdapilleta, Ph. D. – Director
Dr. Urdapilleta is a seasoned economist, researcher, and evaluator with over 20 years of experience focusing on program evaluations and performance measurement for multiple U.S. government and international organizations. He leads complex, multi-million-dollar research and policy projects, bringing innovative solutions to a variety of health policy issues. Dr. Urdapilleta has lead researchers and data analysts on rigorous mixed methods impact and outcome evaluations, technical support, and technical assistance contracts and on data collection including multi-mode surveys, which produced a broad range of deliverables and products including reports to Congress. He oversees the work at DOL EBSA, HRSA and CMS.

Ian Feller, M.P.P, PMP – Senior Consultant
Mr. Feller supported HUD since 2014, providing customized dashboards and early warning and detection tools for asset management. He oversaw the development of a tailored risk-rating methodology using OHF's historical portfolio performance and hospital- specific metrics and developed an online, interactive dashboard for the Section 242 program. He also led the development of an internal desk guide codifying policies, reducing key-staff dependency risk, and ensuring consistent policy application.

Scott Senkier – Senior Consultant
Mr. Senkier contributed to the development and production of a web-based dashboard at Kaiser Permanente that allowed for secure user-logins and facilitated user inputs for a financial lending portfolio. The application displayed a geographic representation of the $200 million portfolio and investments as well as analyses of the investment quality based on internal metrics along with validating external data. He also supported the CDFI Fund at Department of the Treasury for two separate programs related to mission-oriented finance. Part of the program management and enhancements involved the creation of several web-based applications to monitor a $500 million- dollar loan portfolio and $200 million grant program. Mr. Senkier implemented standardized repeatable analyses and developed dynamic visualizations that CDFI Fund staff can use to actively monitor portfolios and save 320 resource hours per year.

Susan Newton-Rhodes – Director
Ms. Newton-Rhodes has more than 20 years' experience helping institutional and philanthropic investors design, implement, and evaluate the effectiveness of social investment strategies to include small business, community facilities, affordable housing, and economic development programs. In particular, she has worked closely with the CDFI industry to develop capital strategies and products for both CDFI and prospective investors. At Summit, she supports the CDFI Bond Guarantee Program by providing CDFI industry expertise in developing programmatic regulations and requirements. Her prior experience includes specific focus in the growth, management, and structuring of a national CDFI, and extensive work with community-based non-profit organizations in rural and urban communities. She has also helped the Department of Health design equitable payment systems for direct service providers for Housing Opportunities for Persons with AIDS (HOPWA) funding.