Posted by Natalie Patten on 2/9/21 10:39 AM

--------------------------------------------------------
Summit Consulting, LLC, and its teaming partner, the W.E. Upjohn Institute for Employment Research, recently completed a study for the National Institute of Standards and Technology (NIST) that estimated the national economic impacts of the Hollings Manufacturing Extension Partnership (MEP) program for the 2020 fiscal year (FY2020).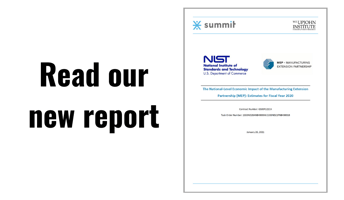 The MEP program is a federal public-private partnership created in 1988 that provides small and medium-sized manufacturers with technology-based services to help them improve productivity, create high-paying manufacturing jobs, and enhance competitiveness. Despite the enormous challenges that manufacturing and the greater economy faced as a result of the COVID-19 pandemic, the MEP program showed higher aggregate impacts in FY2020 than it did in FY2019.
The study found:
The federal investment of $146 million yielded a return to the Treasury of about $1.99 billion, for a return on investment of 13.6:1.
MEP and its 51 centers across the United States and Puerto Rico contributed to the addition of over 252,000 jobs.
"Another year with extraordinary results! MEP Centers across the country are undoubtedly fulfilling their duties in helping small and medium-sized manufacturers create competitive futures by empowering them to excel," said Chuck Spangler, board chair of the American Small Manufacturers Coalition and President of the South Carolina Manufacturing Extension Partnership Coalition. "As highlighted on this report, the impacts these organizations are contributing and the benefits to our economy are not just impressive—they are imperative to the sustainability of manufacturing."
You can read the Summit-Upjohn Team's full report here. You can see the press release from the American Small Manufacturers Coalition here.