Posted by Andrew Netter on 2/2/17 1:48 PM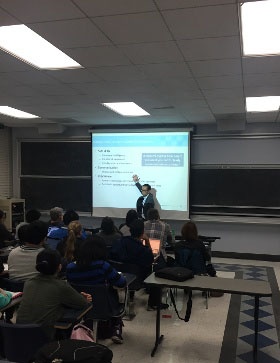 Last month, I accompanied Summit Principal Dr. Albert Lee as we spoke to students at University of California, Los Angles (UCLA). Dr. Lee spoke to Dr. Robert Gould's "Career in Statistics" seminar about ways to make your statistics degree useful for your first job. Dr. Gould, who hosts the annual seminar, is the vice chair of UCLA's undergraduate statistics program.
Lee opened the presentation by telling students that "shyness will not be a skill that serves you well in your career." He connected this piece of advice through out the talk, which covered a range of topics. Lee discussed his academic and professional background, and what lead him to start Summit Consulting. He noted that being active and inquisitive will serve individuals well in their professional lives.
Lee also encouraged the students to focus on providing actionable and helpful answers through their statistics work. Most real-world consulting problems don't have a concrete 'right-answer'; it is the consultant's job to offer a helpful answer (What is the most effective way, given time and resources, to obtain a constructive answer the question?) and not to focus on a 'right' answer.
I also spoke to the students about my experience graduating from college and beginning as a young professional in a statistics job, and how I made my way to Summit. I discussed my experience as a Summit Intern Mentor and gave the students advice on how to get the most out of their internship. I also answered questions about how the staff-level employees work together at Summit.
A special thanks to Robert Gould and the UCLA statistics department for letting us speak to their students!
---
Are you interested in a career in statistics? Check out the American Statistical Association (AMSTAT) career page: http://www.amstat.org/ASA/Your-Career/home.aspx.