Posted by Sean Martin on 9/2/15 11:30 AM

Do you remember the book bag you carried in middle school? What about elementary or high school? Do you remember how you obtained that bag? Maybe you didn't have a book bag at all. Fortunately, Summit Consulting possesses a philanthropic culture that supports its employees giving back to the community. This fall, Summit volunteers helped an estimated 800 school children in D.C. get a great start on the first day of school.
Taking advantage of the new company policy that allows employees to utilize flexible hours for charitable engagements, over 15 colleagues from all levels of Summit used two hours of time to volunteer at the Central Union Mission's Operation Backpack. This opportunity, organized by the Summit Together Philanthropy Committee, helped the Central Union Mission organize, pack, label, and bundle hundreds of book bags—ensuring on-time delivery of school supplies to homeless Washington, D.C. children across all grade levels. Bags were separated by age then labeled and packed with necessary supplies such as notebooks, pencils, rulers, folders, binders, and other grade-appropriate materials.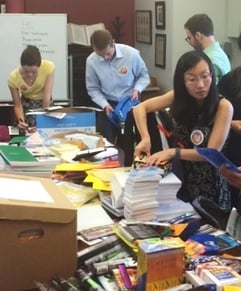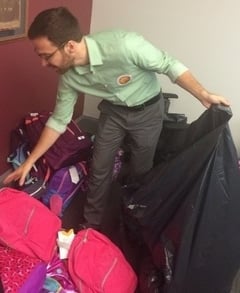 After the event, volunteers enjoyed pizza and cookies and engaged in positive conversations about their experiences. Departing intern Bradley Rava commented, "It was wonderful being able to break away from the office to help with Operation Backpack. As a data scientist, it is easy for us to get caught up viewing the world as numerical values. This experience helped me remember that there is always a face behind my data… It was a very humbling experience and I can't want to see how we can help out more in the future!"
Summit Together will continue to provide volunteer opportunities for our employees to give back to the community. Keep an eye on the Summit Blog for updates on our next adventure!