Posted by Alexander Melton on 10/13/16 9:16 AM

On September 2016, I attended the first annual White House Open Data Innovation Summit. This event brought together individuals from the government, nonprofit, and private sectors to talk about the future of open government data.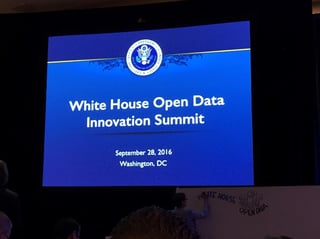 Exploring America's Early Data
As an introduction to the current data environment, the audience heard multiple narratives focused on the relationship between data and the American story:
Our first president, George Washington, was a land surveyor. Working with entities such as the College of William and Mary, Washington completed massive data collection projects before embarking on a legendary military and political career.
Our Constitution mandates data collection on its populous every ten years through the census process.
Even social leaders, like Jane Addams, used spatial data to combat the spread of yellow fever in Chicago during the late nineteenth and early twentieth centuries.
Using Data to Create Solutions
The takeaway from this event was not that the government should make more, publish more, or even use more data. The overall message was that government should use data to create solutions to society's biggest challenges. Todd Park, former Chief Technology Officer of the United States from 2012 to 2014, effectively summarized this sentiment: "Data by itself is not valuable. It does not feed people. It does not save lives."
At the same time, Park urged the audience to recognize that big data projects cannot be completed by the government alone. Often, the technical abilities in many government offices lag behind those in the private sector.
Building Public-Private Partnerships for Better Data Analyses and Policy Solutions
Shaun Donovan, Direction of the Office of Management and Budget and former Secretary of Housing of Urban Development, discussed how executive branch offices could maximize the benefit of public-private partnerships using big data:
Director Donovan shared the idea of a data ecosystem where government and private firms can come together, maximize each other's skills, and focus on solutions to society's problems.
Representatives from the Cancer Moonshot Project (led by Vice President Joe Biden) spoke about the cooperation between government and private parties. Though the effort is only a few months old, public and private hospitals and health groups have all made efforts to share data to improve patient care during cancer treatment.
After this event, I gained a new outlook on the relationship between consulting firms like Summit and the Federal government. While my work focuses on Summit's commercial clients, I recognize the importance of our many teams who work on government contracts. As the Federal government becomes more ambitious with its data projects, it is going to rely on analytics firms like Summit to help process and analyze its data. Collaborations between the government and private sector have the potential to bring about real policy changes, resulting in a government that is more efficient and more effective for all citizens.