Posted by Jessica Liodos on 11/12/20 10:46 AM

--------------------------------------------------------
This post discusses:
the current underutilization of U.S. apprenticeship programs;
renewed support for expanding apprenticeship programs in response to a changing work landscape; and
the need for policy makers and relevant stakeholders to recognize program components that can be leveraged to ensure the future is powered by people.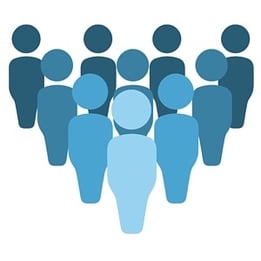 The Department of Labor (DOL) recently announced that the sixth annual National Apprenticeship Week takes place November 8–14, 2020. National Apprenticeship Week demonstrates both active support of and continued mobilization around a workforce-development strategy that is ideal to revive in today's rapidly changing world of work. This revival is especially exciting for those working to ensure a people-powered future—one that designs technology around humans rather than excluding them.
Summit has nearly a decade of experience producing mixed-method program evaluations for the federal government, including evaluating workforce-development strategies and future skills needs. This knowledge enables us to think meaningfully about the future of the U.S. workforce and how to equip workers with the skills employers will require and decrease the widening skills gap. Renewed excitement about U.S. apprenticeship programs offers us the opportunity to further develop this experience.
The value of apprenticeship programs
Between 1998 and 2010, the number of apprenticeship programs reported by DOL fell by 36%. However, the decline should not be interpreted as a testament to the value and benefits these programs offer.
For example, apprenticeship programs have historically yielded a high return on investment (ROI). A high ROI is one factor of interest to relevant stakeholders, and consistently high ROIs could result in a diverse group of stakeholders across business, government, and labor organizations to strategize policy improvements and cultivate cross-sector partnerships that grow U.S. apprenticeship programs.
Given the value these programs offer to both employers and workers, recognition and continued policy improvements can help overcome current underutilization. Employers who maintain apprenticeship programs often receive high ratings from employees and are attractive to future talent. High employer attractiveness is an increasingly desirable trait as the nation undergoes demographic shifts, especially as the retirement rate among the baby boomer generation continues to rise. The remaining labor force will be much younger and in need of skills development, and competition for top talent will subsequently increase. Therefore, employer attractiveness is a valuable asset to add to a portfolio of recruitment strategies.
Another benefit that employers can gain from apprenticeship programs is the ability to develop talent in-house. This can result in cost savings by lessening the resources needed for future recruitment efforts while simultaneously developing and maintaining the mechanisms for a qualified and skilled workforce internally. The proper design, implementation, and continual evaluation of apprenticeship programs can cultivate a future workforce that:
is able to develop innovative solutions to complex problems;

understands collaboration is a key component to meaningful work; and

is committed to lifelong learning as well as re-skilling and up-skilling.
Recent Department of Labor efforts to grow apprenticeship programs
Recognition of the value of apprenticeship programs, a dedication to strengthening those programs nationwide, and a commitment to preparing the future labor force can be seen through recent initiatives at DOL, notably:
DOL announced the first group of standards-recognition entities for industry-recognized apprenticeship programs in an effort to incentivize expansion of these programs into industries where their value is underutilized.
DOL made $150 million available to invest in workforce training for key U.S. employment sectors aiming to prepare a qualified and skilled future labor force capable of remaining globally competitive.
This rededication to apprenticeship programs demonstrates the understanding that proactive planning and policy are needed to effectively leverage the forces changing the nature of work and ensure the benefits are enjoyed by all. The rededication further signals that prioritizing investment in workers, education, training, and up-skilling will increase the likelihood that:
The future is people-centered.
Career pathways and work opportunities are created for job seekers across the nation.
Register for a virtual event
Visit the National Apprenticeship Week website, where there are more than 600 events planned—showing strong support for growing the quantity and quality of apprenticeship programs across the country. Summit encourages anyone interested in learning about the value and future of apprenticeships in the U.S. to check out any of the free virtual events. Happy National Apprenticeship Week!