Posted by Julie Weber on 10/30/14 10:12 AM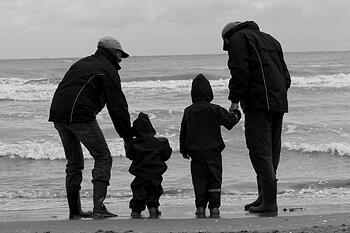 In celebration of National Work and Family Month, we wanted to highlight a newly published report from Working Mother, "How Men Flex." This report clearly finds that "[m]en – especially dads – are now part of the conversation around work flex. They use it and appreciate it just as women do, and it makes them more loyal, engaged, and productive employees." While some readers may be surprised by the report's finding, here, at Summit we have witnessed this finding first-hand.
Due in large part to the vision of Human Capital Manager, Jennifer Folsom, an early proponent of workplace flexibility, Summit has implemented a vast array of workplace flexibility programs and policies which male and female employees at all levels regularly utilize. These flex work programs and policies include opportunities to engage in telework, part-time work, alternative work arrangements, core hours, and even an unpaid sabbatical.
The implementation of these programs was no accident; Folsom recognized early on in her career that when an employer supports an employee in meeting the demands of his/her work and life needs/wants, the result is a happy employee (and, ultimately, a happy employer). This point is hit home by the report's findings that men (and women) who have access to flexible work report much higher levels of satisfaction across 11 different work life sectors, including the support an employee gets from his spouse/partner in meeting the demands of work, the level of respect the employees believes he gets at work, his job security and stability, and the support he gets from co-workers and his manager in meeting family and home needs.
As Working Dad and Manager of the Litigation Team, Corey West, recently stated about Summit's workplace flexibility policies and how they benefit him and his family and his work, "I am able to eat dinner and do bedtime with my wife and kids at least three nights a week. In addition, I was the first employee to use Summit's paternity leave policy when my second child was born, adjust my work hours given the number of snow days of the winter of 2013, and stay home with my kids when they're unable to attend school due to illnesses or scheduled school closures."