Posted by Heather Brotsos on 3/29/16 3:30 PM

At Summit, we spend a lot of time working with health claims data. We use this data to help answer research questions, often for Federal clients, and we keep both the data and our insights confidential. To add to our domain expertise, however, sometimes we ask questions using non-client data.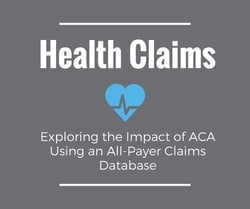 We are interested in exploring the impact of the Affordable Care Act (ACA) through an analysis of claims data. In the coming weeks, the Summit Blog will explore the steps we took to answer that question using administrative claims data acquired from an all-payer claims database.
Acquiring Claims Data
The ACA includes a provision that private plans must cover a set of qualified preventive services, as defined by the Department of Health and Human Services (HHS), with no patient cost sharing. Simply put, this means that the plan cannot charge a patient a deductible, copay, coinsurance, or other fee for a qualifying service. We wanted to determine if this provision has changed patients' utilization of these qualified preventive services. To explore this question, we first needed to find a publicly available dataset. Fortunately, researchers have a powerful new resource that they can use to learn more about health care utilization: the all-payer claims database (APCD).
What is an All-Payer Claims Database?
According to the Robert Wood Johnson Foundation, these systems collect data, most often at the state level, from different payer entities to help states "determine the cost, quality, and utilization of health care for their citizens." Each database is set up to meet a state's specific needs but generally includes claim payment amounts and a procedure code indicating the type of service paid for. Claims may include medical, pharmacy, and dental claims. Payers may include public entities like Medicare as well as commercial entities like private insurance carriers.
Who has an APCD?
Currently, more than thirty states have established APCDs, but only some of those allow public access. The table below provides a summary of APCDs available to researchers.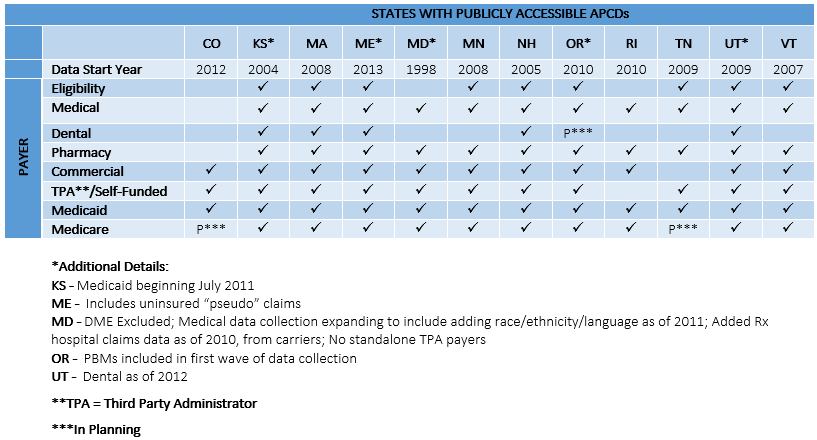 Note: The Commonwealth Fund published an issue brief covering APCDs in 2010, located here. The APCD Council acts as a hub for states to share information and a central resource for all activities related to APCD development.
Our data!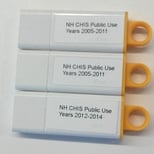 Which state's data did we use? After assessing the alternatives, we requested access to the Public Use Data Set from the New Hampshire Comprehensive Health Care Information System (NH CHIS). We submitted an simple electronic form, and our package arrived by mail just a few weeks later. The public use data set provided plenty of data to sink our teeth into.
Next steps
Now that we have our data, we need to establish a research question. Stay tuned for our next health claims blog post!