Posted by Eva Palmer on 6/19/17 7:56 AM

--------------------------------------------------------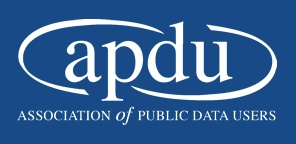 This week, Dr. China Layne will present a webinar to members of the Association of Public Data Users (APDU). She will present on "Improving Administrative Data Quality for Research and Analysis" on Wednesday, June 21, from 3:00 PM to 4:00 PM.
The webinar serves as a primer on how organizations can improve the quality of their administrative data to use for research. Dr. Layne will cover the major issues of data quality, including units of analysis, missing values, invalid values, incorrect formatting, and value inconsistencies within and across variables. In addition, she will provide specific, concrete strategies for reviewing and cleaning the data in preparation for research. The webinar is geared towards smaller to mid-sized organizations that are relatively new to using administrative data for research and evaluation.
APDU is a national network that links users, producers, and disseminators of government statistical data. The association provides a venue to promote education, share news, raise concerns, and advocate on behalf of the interests of public data users. Dr. Layne has previously written on using public and administrative data for research for the 2016 APDU Annual Meeting, internal trainings, and other venues.