Posted by Jenny Dieterle on 12/11/14 3:56 PM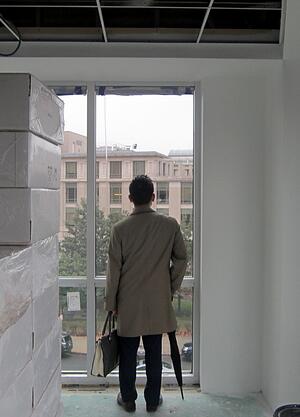 Flexible. Collaborative. Open. We value these traits at Summit, and feel that our best work springs from these tenets. As we grew from a firm of 40 to a firm of 100, we discovered that our office space, once so conducive to our work, grew less flexible for collaboration, and that our floor plan went from open and spacious to open and intrusive. Once it came time to think about moving to a new location, we knew we didn't just need more space. We needed our space to reflect our ideals and lend itself to the way we work.
When we surveyed staff, their overwhelming priority was to have the flexibility of a metro-accessible office. Our new location at 601 New Jersey Avenue NW, located between the Judiciary Square and Union Station metro stations, gives staff the flexibility to walk, bike, or metro to commute home and to many of our government clients. Our new building, complete with a gym and rooftop deck with views of the Capitol, means lunch breaks can include a few quick reps and a change of scenery for team meetings or easy access to firm happy hours. Our conference room tables transform into training tables so we can go from client meetings to training simulations in the blink of an eye.
We didn't brainstorm long about how we work before realizing that we like to collaborate. A lot. Elbow to elbow. Sleeves rolled up. We meet in big groups, small groups, and everything in between. To facilitate productive conversations, we have large conference spaces that break down into smaller spaces. Wheeled-filing cabinets with padded tops allow for one-off, drop-in, sit-down conversations. The minute those quick conversations develop into longer discussions, smaller enclosed break-out spaces with whiteboards enable seed conversations to germinate and take root.
These same break-out spaces provide staff comfort and privacy for talking to clients. Strategically placed lounge chairs allow for a shift in perspective or a quiet space to read about, say, simple random sampling. To ensure staff can collaborate alone, we will continue to offer our ever-popular noise-cancelling headphones so we can watch training videos or become one with our data while retaining the focus that detail-oriented work requires.
The configuration of the space itself, angled floor plates with six sides of windows, brings in natural light and views of the city. Conference room walls of glass allow the light to permeate the office so that we can work without feeling like the federal budget (that is, sequestered). Working in natural light is linked to worker contentedness and productivity, and, in line with our building's LEED-Certified Gold designation, greater energy efficiency.
By making thoughtful decisions about our workspace, our new office becomes more than just a place to hang up our backpacks but a way to amplify the culture we all value while creating a space that makes us more productive, efficient, and happy.