Succession Planning Evaluation for the U.S. Small Business Administration's Office of Human Resources Solutions
Challenge: The U.S. Small Business Administration (SBA) Office of Human Resources Solutions (OHRS) has a strategic objective to evaluate and strengthen leadership succession within the agency.
This focus comes at a critical time, given the projected retirement eligibility rate within the agency is 42% by 2022. The evaluation conducted by the Summit Consulting, LLC, and Fors Marsh Group team ("the Team") was designed to help the SBA develop a proactive, effective leadership succession process, which will strengthen the agency's ability to serve small businesses by building a high-performing workforce.
Solution: The Team conducted a three-part mixed-methods evaluation that included informational meetings with agency leaders, a literature and documentation review, data analyses of multiple administrative datasets, a survey with current and former SBA staff, and several focus groups.
The evaluation design was structured into three interconnected and sequential phases, so that each data collection step informed the next as well as validated findings from the prior. This design increased the Team's ability to establish consistency across evaluation findings and address new or remaining gaps at the conclusion of each phase.
Result: The Team made 11 recommendations to strengthen leadership succession within the SBA.
These recommendations can be found in the written report (published on the SBA's website), which includes a feasibility/impact matrix. The recommendations fell into three categories: develop a fully documented leadership succession plan, improve skills monitoring to address skills gaps and maintain a qualified pool, and improve program benefits.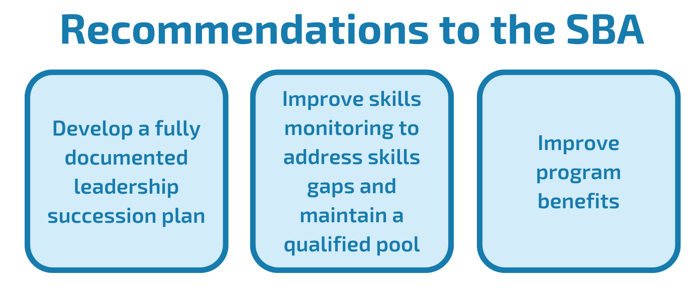 A common theme among many of these recommendations was the need for more targeted or increased communications, which stemmed from the Team's findings that there was often a disconnect between the communication coming from leadership and the information received by non-leadership. The Team recommended that the SBA provide more targeted, specific communications to help bridge this gap.
By focusing on effective and efficient implementation of these recommendations (which can, in many cases, be achieved by leveraging existing agency resources), the SBA can fulfill its strategic objective to strengthen leadership succession and help improve the agency's ability to fulfill its mission of "[helping] Americans start, build, and grow businesses."