Posted by Rebecca Jackson on 4/21/21 10:00 AM

--------------------------------------------------------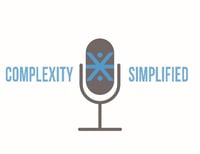 In our most recent episode of Complexity Simplified, Summit senior analyst Rebecca Jackson sits down with Federal Student Aid program manager Tracey Duval. They discuss the key skills, tools, and techniques required for effective program management for government IT modernizations. Duval has leveraged her 19 years of experience managing distributed remote teams to quickly form an effective program management team on a mission-critical FSA IT modernization.
On this podcast, she discusses how open communications helped her build trust with Summit's technical and program management experts to efficiently manage this IT modernization program for FSA. "Having Summit there [at FSA] took a lot of stress off of me," Duval says. "I could not have asked for better contractor support."
Listen in for more insight on how Summit's program and business modernization experts partner with government clients to deliver effective government program management.