Our Capabilities
We support expert witnesses and counsel, bridging advanced analytics, consulting services, and complex litigation.
Expert Testimony
Members of Summit's team have served as expert witnesses in statistics and economics in numerous matters. Each of our experts have spent significant portions of their careers teaching, and they ensure their reports and testimony convey their opinions and the facts in a way that can be understood by nonexperts.
Our experts prepare expert reports and testify in depositions, hearings, and in court. They opine on statistical sampling, econometric methods, model validations, and damage calculations across a wide range of industries and practice areas. Collectively, they have testified in dozens of depositions and have experience testifying in federal court.
Our experts have opined in matters regarding:
Residential mortgage-backed securities

Employee benefits and ERISA

Wage and hour litigation

Patent Infringement

False Claims Act

False Advertising
Expert Witness Support
In addition to expert testimony, Summit has a team of statisticians, economists, data scientists, and researchers who support both internal and external expert witnesses. Complex matters involving large volumes of data can require significant computation. Our support team works with experts to help implement their quantitative solutions. For each engagement, we organize our staff around the work, which often includes:
Data Management: We follow state-of-the-art data management protocols and adhere to strict industry standards for security. We ensure that data are provided in user-friendly formats and that analyses derived from the data are clearly defined and documented for replication.

Evidence Generation: At Summit, we use methods that are appropriate, easy to understand, and defensible.

Evidence Presentation: With the use of basic charts, graphs, and real-world examples, we connect our expertise with counsel and fact finders.
Case Studies
The following case studies represent some of the engagements the litigation directorate has successfully completed in recent years. Each study demonstrates how we apply our knowledge of advanced analytics, consulting services, and complex litigation to the needs of our clients.
Insurance
Challenge: Policyholders sued a life insurance company for failing to disclose insurance policy changes that led to additional charges and changes in benefits.
Summit's Role: Summit reviewed the damage estimation model produced by the opposing experts to estimate the damages to policyholders. This involved reviewing the code for reproducibility, programming mistakes, and model assumptions. The work also included performing various sensitivity tests by modifying the assumptions used to build the model to quantify the reliability of the original estimate.
Result: The Summit-identified model flaws or sensitivities may be used as evidence against suit or in settlement negotiations.
Breach of Contracts
Challenge: A class action suit targeted a Fortune 100 company for a breach in employment contracts.
Summit's Role: Summit developed an econometric model to estimate damages to the class caused by the early termination of employees. In order to provide counsel with the magnitude to which various assumptions impact the damage estimate, different assumptions were applied to determine the most likely amount of damages owed to the class.
Result: Summit's damage estimation calculations will be used as evidence in trial or during settlement negotiations.
Healthcare
Challenge: A group of hospitals was suspected of misreporting hospital claims submitted to Medicare.
Summit's Role: Summit designed and implemented statistical sampling of Medicare claims to estimate the dollar amounts associated with inappropriate Medicare claims in hospital facilities.
Result: The hospital facilities were required to repay the lower bound of the estimate, or risk a lawsuit.
Education
Challenge: Head Start administrative office staff were suspected of charging unallowable expenses to the Head Start program and of inaccurate record keeping of these expenses.
Summit's Role: Summit designed and implemented a statistical sample to estimate the dollar amount associated with unallowable and undocumented expenditures.
Result: The agency found this program office responsible for inappropriate spending and required the office to pay the lower bound of the estimate to the government agency, or risk a lawsuit.
Improper Payments
Challenge: A government agency required annual audits of their accounting records to ensure general ledger accuracy.
Summit's Role: Summit applied statistical sampling to reduce the burden of auditing all unique transactions while still calculating a statistically reliable estimate of the general ledger inaccuracy within the level of precision required by government standards.
Result: The government agency used Summit's statistical analyses to comply with government requirements while dramatically decreasing the level of effort required for performing account audits.
Inaccurate Account Balance
Challenge: An entity needed to determine whether a Fortune 100 Company properly paid claims to other entities negatively affected by a national incident.
Summit's Role: Summit applied statistical sampling to estimate the dollar amount associated with inaccurate claim payments. The sample allowed for separate estimates to be made for different types of claims and results in a level of precision that meets industry standards.
Result: The entity used Summit's statistical estimates to require the Fortune 100 Company to fulfill their claims obligations within a specified margin of error each year.
Awards
Summit is one of America's fastest-growing private companies. In 2015, Inc. Magazine ranked Summit in the Top Ten in Washington, DC, and #1109 nationwide.
Summit earned WorldatWork Alliance for Work-Life Progress's Work-Life Seal of Distinction for 2015. The seal is a unique mark of excellence designed to identify organizational success in work-life effectiveness.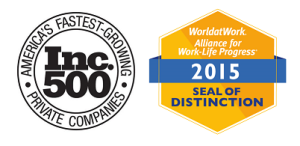 Litigation Contact Us