Mortgage Finance
Summit's Mortgage Finance team empowers clients to make informed decisions about risks to their mortgage loan portfolios. Our experts provide mortgage financial analysis for a variety of clients, including Federal agencies and guarantors with hundreds of billions of dollars deployed in direct loan and guaranteed portfolios.

Capabilities
Summit's Mortgage Finance team provides decision makers with the quantitative tools they need to facilitate risk management and help guide business, policy, and legal decisions.
Quantitative Risk Assessment
Mortgage Financial Analysis
Loss Forecast Modeling
Stochastic Simulation and Stress Testing
Budgeting for Federal Credit Programs
Oversight and Scorecards
Team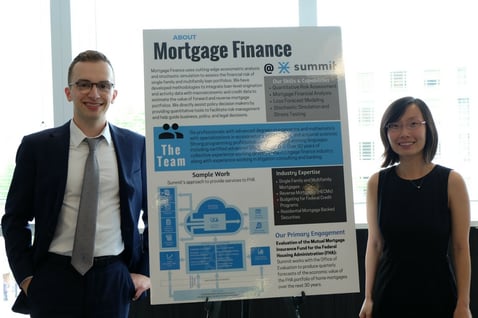 The Mortgage Finance team consists of professionals with advanced degrees in economics and mathematics with specializations in econometrics, applied math, and actuarial sciences. Our staff have strong programming skills in several programming languages including certified advanced SAS programmers. Together, our team has over 30 years of collective experience working directly in the mortgage finance industry, along with experience working in litigation consulting and banking.
Contact Mortgage Finance Experts