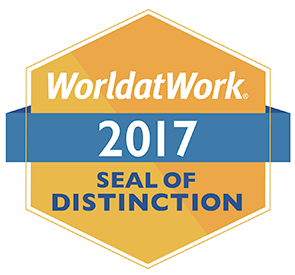 January 26, 2017 (Washington, DC) - WorldAtWork announced this month that Summit Consulting, LLC, earned the 2017 Seal of Distinction. This is the third year in a row that Summit has received this distinction, a mark of excellence that recognizes companies that set the standard for employee engagement that leads to business success.
Begun in 2012, the Seal of Distinction is awarded to companies that show they provided a distinct, mutually beneficial workplace experience. Applications are evaluated on the strength of their total rewards portfolio, as well as the programs, policies, and practices reflected in:
Health & wellness
Pay for time not worked
Unpaid time off
Retirement
Perquisites
Base pay
Bonus programs
Short-term incentives
Long-term incentives
Performance management
Recognition
Development opportunities
Caring for dependents
Culture initiatives & community involvement
Financial wellness
Workplace flexibility
Workforce experience
Summit is one of 160 companies to be recognized this year from across North America. Recipients represent industries of education, finance, government, health, law, manufacturing, and pharmaceuticals. The 2017 list includes 80 companies who are first-time Seal of Distinction recipients, and 80 companies have received the seal in previous years. All 2017 Seal of Distinction companies will be celebrated at the WorldAtWork Total Rewards Conference & Exhibition on May 7, 2017, in Washington, DC.
To learn more about Summit's workplace and corporate culture, explore these articles and pages:
About WorldatWork®
The Total Rewards Association
WorldatWork is a nonprofit human resources association and compensation authority for professionals and organizations focused on compensation, benefits and total rewards. It's our mission to empower professionals to become masters in their fields. We do so by providing thought leadership in total rewards disciplines from the world's most respected experts; ensuring access to timely, relevant content; and fostering an active community of total rewards practitioners and leaders.
WorldatWork has more than 70,000 members and subscribers worldwide; more than 80% of Fortune 500 companies employ a WorldatWork member. Founded in 1955, WorldatWork has offices in Scottsdale, Ariz., and Washington, D.C., and is affiliated with more than 70 human resources associations around the world.