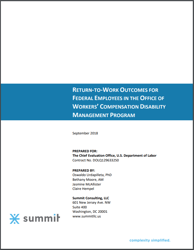 In January 2019, the Department of Labor (DOL) published a new Summit's report: "Return-to-Work Outcomes for Federal Employees in the Office of Worker's Compensation Disability Management Program."
This study was prepared on behalf of the U.S. Department of Labor (DOL) Chief Evaluation Office (CEO) to conduct an in-depth descriptive and statistical analysis of data from the DOL Office of Workers' Compensation Programs (OWCP) Federal Employees' Compensation Act (FECA) case management system. From the executive summary:
The study aimed to understand what factors are associated with disabled workers returning to work and examine if the extent to which the current timing of disability management services is optimal for supporting positive outcomes for injured workers. This report provides descriptive statistics and associations between case characteristics (injury, claim, and claimant characteristics) and the outcomes of interest (return-to-work and disability management duration)...

After 12 months in disability management, 76% of injured workers returned to work. Overall, 82% of injured workers returned to work at some point during the disability management program. This study only considers the return-to-work outcome, and does not include other disability management resolutions that could be considered successful due to reduction in benefits paid.
Visit this link to read the full report: https://www.dol.gov/asp/evaluation/completed-studies/OWCP-External-Report-DOL.pdf.
We would like to thank the Chief Evaluation Office staff at DOL for their direction and support during this project. In particular, we thank Kuang-Chi Chang for her input on the study design and draft report. We would also like to thank the Office of Workers Compensation Program staff who provided feedback and context for our results.
Finally, we thank the Summit staff who made important contributions to this report, including constructing the analysis data set from many data tables, lending their programming prowess, and providing technical input on our methods. We would also like to thank our team of editors for their work to make this report polished and accessible.