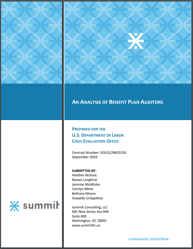 In February 2019, the U.S. Department of Labor (DOL) published a new Summit's report: "An Analysis of Benefit Plan Auditors."
This report presents findings from a trend analysis of CPA selection and switching behavior over time through examination of Form 5500 filing data and audit reviews conducted by EBSA between Plan Years 2011 and 2015.
Evidence suggests that the population of CPAs is changing and that the more benefit plan audits a CPA firm performs, the more likely that auditor is to stay in the market. These findings may benefit plan CPA population may be helpful for informing future outreach, monitoring, and research efforts by EBSA.
Visit this link to read the full report: https://www.dol.gov/asp/evaluation/completed-studies/Benefit-Plan-Auditor-Analysis.pdf.